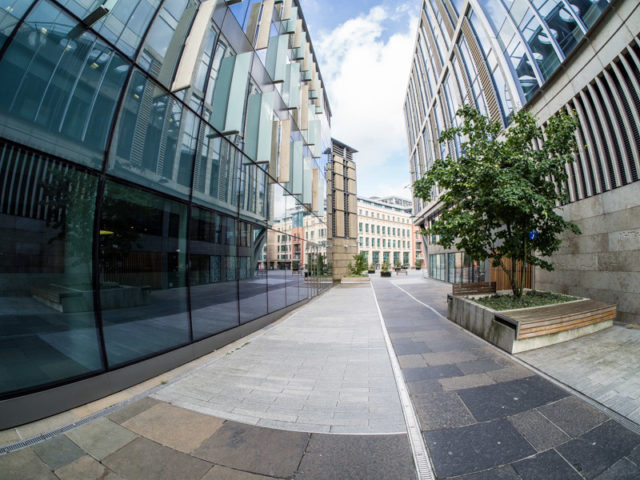 Electricity travels at almost the speed of light. Diesel is hard to spell and is a fossil fuel.
Today we took the 'leccy train to Embra. We didn't intentionally go the 'leccy route. It just happened that the train we were waiting for was powered by the new clean, invisible power source. The Stirling train that preceded it was powered by old fashioned, smelly, hard to spell deisil, desil, diesel. That's because they don't have electricity in Stirling yet. They still have gas lights in the street and coal fires. I do feel sorry for them.
The super fast 'leccy train took longer than the diesel trains they are replacing. Maybe it was cheap, slow electricity they were using or maybe it was Abellio who now run Scotrail who couldn't manage the rail system properly. Surely not! Anyway, we got to Haymarket and walked up the road for morning coffee in Nero, but not before I set the Samyang loose in Ladyfield which is a great canyon between large imposing office blocks. That's where PoD came from. I really like the perspective this lens gives. With one in the bag, I could enjoy my morning coffee.
After that we walked up through the Grassmarket to see if anyone was actually selling grass. They weren't, but I wasn't surprised because I hadn't seen anyone selling hay at Haymarket. (Sounds better with a Chic Murray delivery.) From there we headed for the Royal Mile which was mobbed. I was beginning to think that there had been an extension to the Fringe Festival, but it was just the usual bunch of escapologists, jugglers and fire eaters performing for the tourists. We're not tourists, we LIVE in Scotland. There did seem to be quite a lot of tourists about, but I later checked and the Norwegian Jade cruise ship was docked at Leith, so that probably explained things.
We walked back down through the Old Town and from there along George Street, then back along Rose Street, eventually giving up and heading for the tea room at the National Gallery where our lunch was a shared baguette of smoked salmon with leaves and mayo and a two cups of tea, paper cups, to Scamp's disgust. After our light lunch we just got the train home. We'd had a bit of a wander around the Capital and were ready to return to the real world.
It was a dull day weatherwise with nothing much to recommend it. I took a few more photos to test out the ability of the Samyang, but am fairly confident that at f8 or better it can handle almost anything I can throw at it. It's a keeper, for sure.
Got the 'leccy train back home and it was fast! Impressively so. Shave a good 10 minutes off a 45 minute journey. The folk in Stirling don't know what they're missing. They thought it was a great thing last year when the diesel trains replaced the steam trains they'd had for years. Not to mention that the carriages had roofs, not like the open carriages they'd had before.
Tomorrow it's the Cumbersheugh 10k, so if we're not out by 10am we're locked in until midday. I don't suppose we'll mind as the weather is to be 'Scottish'. Hopefully dancing later.