Meeting Shona for lunch today.
First, though I took a trip to Bishopbriggs to get myself the shaver adaptor that caused the bother on Friday and also a card reader that would allow me to import the files from my Nikon CP950. The 950 is an ancient digital camera made in 1999 and is one of the best cameras for recording in infrared without adaptation. All you need to do is stick an R72 filter in front of it and shoot away as if it's not there. An R72 filter is a very, very dark red. It's so dark it looks totally opaque to the human eye. What it does is restrict almost all the visible light, only allowing through the light in the 720nm area of the spectrum, in other words, infrared. The great thing about infrared is that living green material is rendered as white and skies are black. Fake green 'leaves' like camouflage are rendered as black and it was this ability to differentiate fake from real that made it so important during WW2. I just wanted to do fancy stuff to the shots later in Photoshop, but since the CP950 uses Compact Flash memory cards and hardly anybody uses them now, it's a bit of a problem getting the images into the computer. However, Currys had a card reader with CF capability, so that's why I was up and out early to get one.
After that and after I'd salivated over the low resolution, but true infrared images, I went to meet Shona. I'd fitted a couple of locks for her in her flat and she was buying me lunch as a 'Thank You'. We drove up to the new Milano Cafe where she had Spaghetti Carbonara and I had Spaghetti con Polpette ( meatballs). Her Carbonara looked the part, but the sauce in mine was a bit thin. Having said that, there was plenty on the plate and it was a good fun lunch.
Drove Shona home and then went out to get some photos in St Mo's. Didn't stay long as I had to exhibit my EDiM photos to Margie, because Gems were in the house today. Saw another red damselfly, a smaller one than yesterday's, but it was too fast for me and I didn't manage to capture it. I did get some IR shots with the CP950 which is held together with a heavy duty rubber band, because of a design flaw in the locking mechanism of the battery compartment. It was one of the IR photos that took PoD.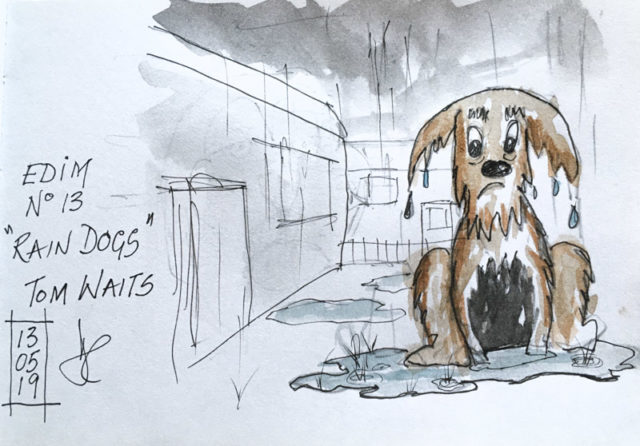 I'd already started on the sketch of the day whose topic was "Your favourite song". My favourite song was "Raindogs" by Tom Waits and that's what you see here. A Raindog.
Salsa tonight was energetic and exhausting. The completely new one was "Lotus", with a reprise of "Lizzy" and "Stormtrooper". I got the blame for Stormtrooper because the tee shirt I was wearing had a lego stormtrooper on it. Hazy must shoulder part of the blame for that because she's the one who bought it for me!
Tomorrow looks like an interesting day with temperatures of 22ºc predicted! We may go out somewhere to celebrate.