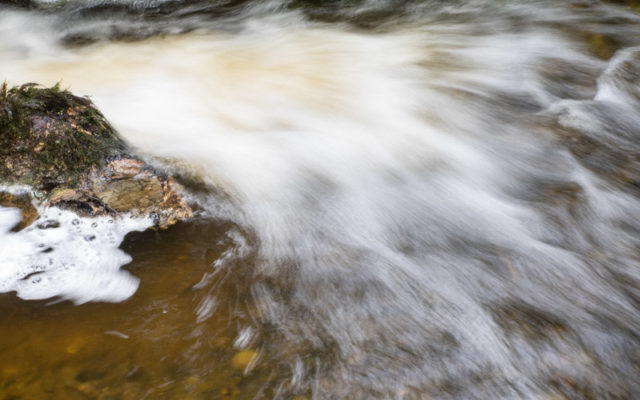 Time to get your feet wet!
JIC and Sim were off into Aberystwyth for supplies so we had the morning to do as we pleased. Heavy rain last night had swollen the burn that runs down the side of the house, that meant it was just screaming out for a slow-shutter series of photos. Dragged the tripod out of the car and got started. About fifty shots later I was done. It was one of the fifty that got PoD. I got my boots wet, but thankfully my feet stayed dry.
Time to start prepping for tonight's dinner which would be Venison Casserole. We'd brought the slow-cooker with us along with a kilo of venison from the butcher in Muirhead. There would be nine for dinner tonight. Eight for venison with Scamp preferring he non-meat 'Rats'. Nine in total because Madeleine had invited an old school friend of hers with her husband to spend the day with them and have dinner. That's why I was prepping the casserole just before lunch.
After the slow cooker was doing its thing, and lunch had been served to Madeleine and her guests, we minions left for one last long walk. This time we were going all the way along the railway before turning up the hill and heading for high ground where we hoped we'd get a good view. We got to the end of the railway and started to turn up the hill when Sim called a halt. There were bullocks and cows in the field we were in and she didn't know how Vixen would react to them, so we turned round and went all the way down the hill towards a river ford. About three quarters of the way down we heard a dog barking. Again we stopped while an expeditionary force went to investigate. We couldn't find any sign of dogs, but there were a couple of houses and everyone down here seemed to have dogs of some description, so we aborted that route and headed back along the railway line then up that bloody hill again.
Madeleine was holding court in the kitchen when we got back and after we'd got cleaned up and changed, we finalised the cooking of the dinner while they chatted noisily in the background. Dinner was well received, as well it should have been. Then we found out that we had a lot in common with the two visitors. He, Peter, had been a college lecturer and head of department. Both he and Alison were ballroom and Latin dancers. We shared tales of Fishtails and Turkish Towels. Overall it was a good night. After that it was time to start the packing and we really got most of it done with just enough time left for a last drink with no TV, then it was time for bed and a long drive for all of us the tomorrow.