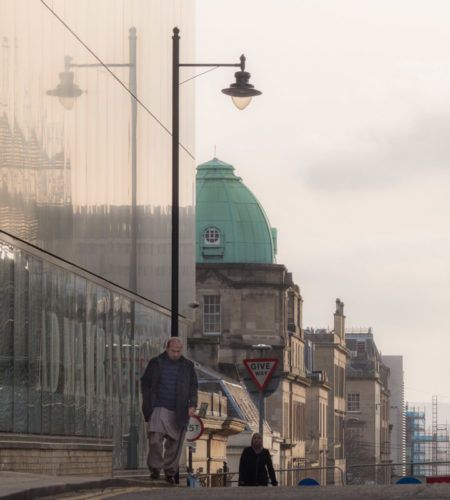 Actually less than an hour according to the parking machine in Cowcaddens.
Scamp was off to meet Isobel for coffee this morning, so I was free to do anything I wanted. What I ended up doing was tidying up the back bedroom even more. Scamp had left me two Creme Eggs as a Valentine's prezzy! I had that with a coffee while I tried today's medium Sudoku. When she came back the clouds had rolled in and it wasn't looking like a day for going to Mugdock or anywhere else of that ilk. I had lunch and afterwards decided I'd go out somewhere to take some foties. My first choice was Haggs, down by the canal at Haggs to be more precise. I was halfway there when I made the decision that there was no point, because you really need good light for landscape, and the light was poor. So I turned back and pointed the Juke at the carpark for the Luggie. Maybe a walk down the Luggie would work. After I'd parked I reconsidered. I wanted to go and look for drawing ink in a new shop I'd found near Cowcaddens underground. I couldn't go tomorrow, weekends are alway accounted for, so what about Monday. Nope, Monday is too busy as it is and Tuesday is accounted for. It's in the wrong end of Sausageroll Street for a Wednesday detour, and next Thursday is coffee with the boys. Why don't I just go today and hope to get some foties in town. Sorted. Turned round and drove into Glasgow.
Parked at Cowcaddens and walked round the disaster that is the Art School (how much does even the scaffolding cost?) Finally arriving at the Paint & Mortar shop that sells graphics stuff to students at the GSA (Glasgow School of Art), but is perfectly happy to take money from ordinary punters too. Two very helpful sales staff told me that they didn't have the ink I was looking for. All their drawing ink had a shellac base which will completely destroy a normal fountain pen in about a week. I used to have an old Osmiroid fountain pen when I was an apprentice draughtsman. It's the only fountain pen that would survive being filled with shellac based Indian ink. You can't get them anymore.
I walked back to the car and grabbed a few shots in the soft light that had appeared after the clouds had broken up. One of them made PoD after a bit of post-processing in Lightroom. I was quite pleased with the effect. Put my ticket in the parking machine and I'd used less than an hour of time. Had a walk, clarified what ink I needed and got a couple of photos all in less than 60mins!
Came home and after manipulating the image, I got stuck into making some pakora using a new recipe I'd found on YouTube. Mercifully it worked because there was a fair bit of prep needed. It still needs a bit more work, but the basis is there now. Scamp agreed that it tastes a lot better than that first recipe. Dinner tonight was a curry from ASDA and we both agreed it better than the Tesco version.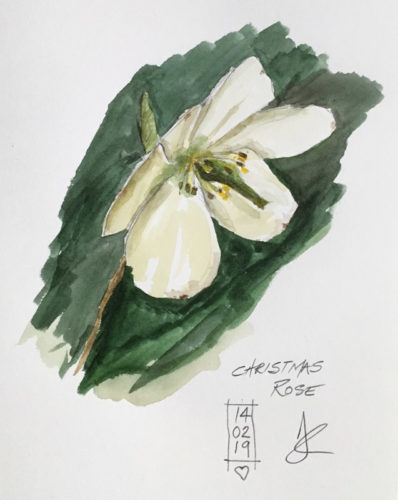 Watched the Sewing Bee tonight while I copied one of Tuesday's photos of Scamp's Christmas Rose. Not entirely satisfied with with it, but it's not too bad. Halfway through the 28 Drawings already. How time flies.  I don't know how those people in the GBSB can take an old pair of jeans and make a dress out of it without a pattern.  I think I'm doing well if I can repair a pocket.  Making a bow tie is the limit of my abilities.  Maybe I will start that waistcoat this year.
Don't have any plans for tomorrow. Weather fairies seem to think it's going to be good, but they said that about today and although it did eventually brighten up, it took it's own sweet time about it. Still, probably go somewhere nice.