We had agreed that if it was a decent day (No Snow, No High winds, No Driving rain) we would get the bus to Ayr. The morning ticked all the above boxes, so we set off for sun, sea and sandcastles on the beach at Ayr. By the time we got to Prestwick the sky had clouded over and it was looking decidedly rainy, which was a bit of a pity as we had left Glasgow basking under a blue sky. We woz robbed!
However, we made the best of it with lunch at Wotherspoons, and since I wasn't driving I even had a beer with my lunch. Oh joy of joys! Then we went for the walk along the beach, but by then the rain was starting, so we did fore go the sandcastles. I did manage to get a nice wee shot of the pier. Is it a pier if it's made of concrete? It is now.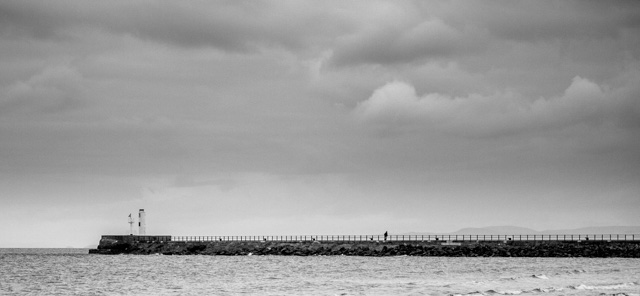 Pier at Ayr on a cold, wet, windy day. Bracing. Yes, that's the word. Bracing!
365/043