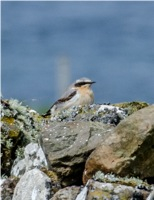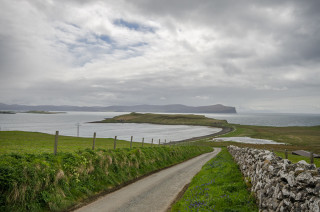 Today, I'd decided we were off to Trumpan on the west coast of Skye. Tried to go up over Quairaing, but some eejits had not read the memo about passing places and were having an argie-bargie about right of way. Three point turn and head back to Trumpan via Portree. Trumpan is a beautiful isolated area where silence is king. Usually! When we passed Waternish and were almost at Trumpan, I could see that we wouldn't be alone today. The carpark looked jam packed with cars and camper vans. What is it about camper vans these days? Everyone seems to want to travel in them. Granted, they are better than caravans, but not by much. They seem to be getting ever longer and wider, yes, definitely wider. They are becoming a menace. Also, unlike the ubiquitous caravan, camper vans are easier to park and therefore can be dumped anywhere overnight. As my brother-in-law says, "one wheel off the road and it's parked". However, we did get parked and thankfully Scamp had filled a flask and Murd had insisted we take some chocolate biscuits. Not the healthiest lunch, but it filled a wee space.
Took some photos around the church, but not of it.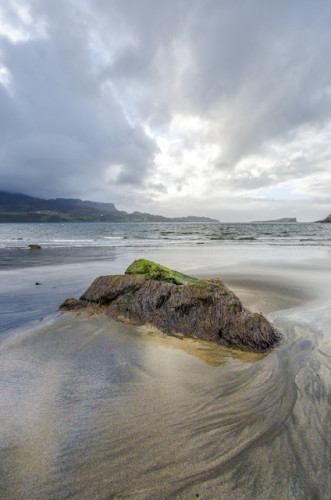 Drove back to 'civilisation' and after dinner I went for a walk along from the slip on to the rocks. By the time I got to the slip, there were already three camper vans parked up for the night. I can see why the locals don't like them. They come on to the island, wild park at night, paying no site fees. They bring all their food with them. They even but their fuel off the island. To sum it up, they bring nothing but grief to the island and give nothing back.
The rain was pouring down all the way to the rocks. I didn't see anything worth shooting, so headed back. Just when I got back the skies opened and a rainbow appeared over Kilt Rock. Superb. After that, I drove to the beach and got a few more photos before heading home. Another brilliant day in Skye.