It was Scamp's turn to slip the lead today.  I had a day on my own and the sky was a boring blue.  Not one cloud.  Had a lazy morning finishing Alan Cumming's excellent "Not my father's son".  I recommend it to anyone.  Like my daughter said, it reads as if he's talking to you.  An uncommon skill.  After my reading session in the library and also after lunch, I took myself out to get the makings of dinner and to take some foties as the sky was no longer a boring blue, but had some clouds and some character.  Drove around some of the country roads I've not been on for ages and managed a few shots.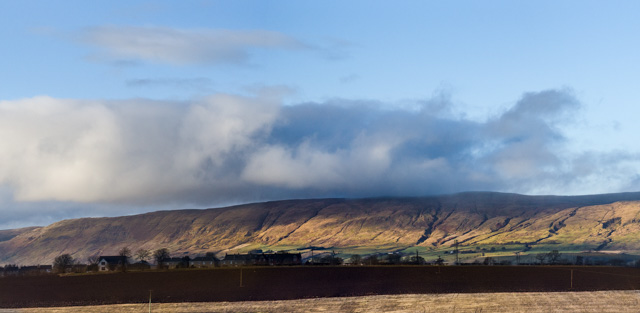 The trouble with using Autopano and other similar progs is it makes you lazy.  So it was today.  I just couldn't be bothered going back to the car to get my short lens, so I just kept the 70-300 on and shot 12 or so images with the short end and later processed them into a wide shot in Photoshop.  Having said that, it took PS 20 mins to build the pano and it would have taken 5mins for me to change lenses.  Pointless technology!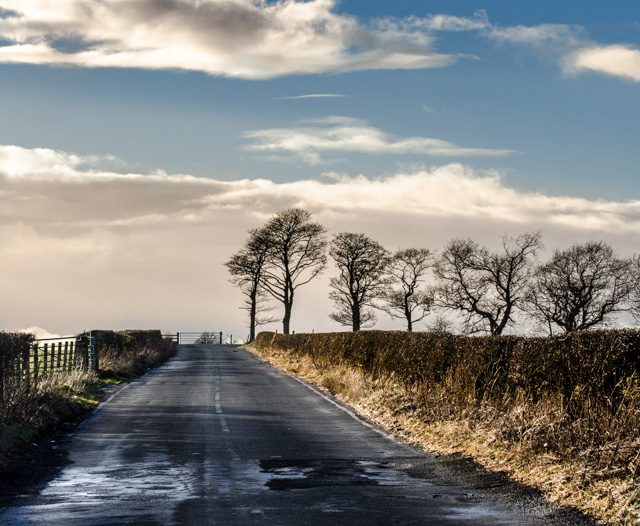 This was a straight part of the country roads I was on. Possibly the only straight part in the whole system of roads. Still, I liked the compo and the trees looked good against the clouds.
365/052