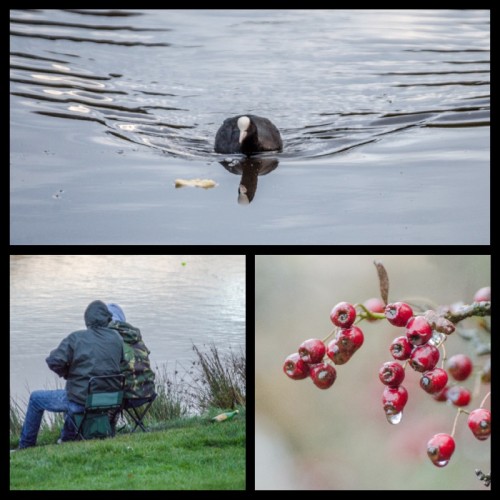 Writing this while standing at St Mo's watching the last of the light fade. It's been a dull day. I was talking to a woman who gave me chapter and verse about the family of swans that live there or maybe I should say who live there as she seemed to know them intimately.
Earlier, around midday we headed for Glasgow but while driving down the motorway in torrential rain, we both decided it wasn't really the way we wanted to spend our day.  Scamp suggested that we take the turn off and head for Costa at Robroyston instead.  Good move.  After lunch at Costa, we did a bit of shopping and went home.
Typically, as we headed home, the sky cleared and by the time we got home there was a bit of blue sky overhead.  That's why I went for a walk to St Mo's.  Two poor blokes were fishing and I noticed they had a wee bottle of Bucky to keep their spirits up and inject a bit of warmth.  Couldn't blame them today.