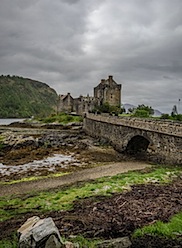 All good things must come to an end, and so it was for us as we left Digg and Staffin and Skye behind and headed back down the road. We stopped for a while at Eilean Donan castle for coffee and a scone. I wandered round the exhibition of photos celebrating 100 years of something – wasn't really interested in what. Most of the photos were clichéd shots of the castle, with only a couple that held my interest for any time. Needless to say, those were B&W. The worst ones by far were the ones that had accidentally (I hope) fallen into a bucket of Photomatix and had turned out all grungy with too light shadows, too saturated colour and too sharp detail. Just dunk them in the HDR mix, drag them out and that's it done. Hmm, I used to play with HDR too, but you have to be so careful not to produce rubbish from what could be a decent photo. End of rant.
I took some photos of the castle. It's difficult to get a 'different' viewpoint for this well known piece of stonework, but I tried.
Coffee over and photos taken, we got back on the road and after stopping for lunch at Spean Bridge, and re-fuelling at Fort William our next stop was Loch Lubnaig where we parked up at the new parking place at the side of the loch. A wee bit clean and tidy, but much better than the way it was before with a load of dodgy characters overnight camping and leaving the area in a real mess. The sun came out when we were there and I did manage a few shots in good lighting before we drove the final few miles home.
Loch Lubnaig photos: