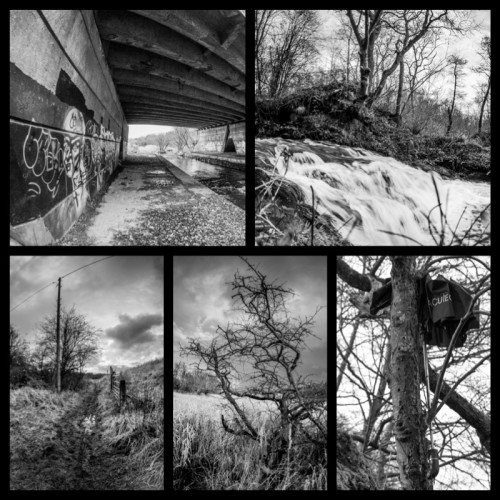 Today Scamp retired. The title for today's post came from one of her throw-away lines when she was speaking to Hazy. "Yes, this is The Retirement Home". For someone without a sense of humour, that's pretty good going. It was a stressful day. Up with the lark (if the lark got up about 8.00am that is) and out to get the tinsel, the helium balloon, the lights and the coloured balloons. It's amazing what you can get for a fiver in the pound shop. Back to decorate the place. Where's the stapler? Found it! It's empty! Where are the staples? Found another stapler! Yippee it's got some staples in it!! Just got it finished and Scamp phoned to say she was on the way home. Time for a cup of coffee.
The decorations seemed to pass muster. Then it was time to take Scamp to her retirement party. Dropped her there talking with one of the 'Witches' and went to take some photos. Cold and bright when I left, then the clouds rolled in, but I persevered and got some interesting shots in the intervals of sunlight during the hour or so I had. My favourite, but not the POD was the broken umbrella stuck in the tree. This path is far from any well trodden route so I imagine the umbrella must have blown quite a distance to reach its final destination.
We're just back from our dinner at Vecchia Bologna in Bridge of Allan. It was lovely. I think it drew a line under a rather fraught, but essentially a very successful day.