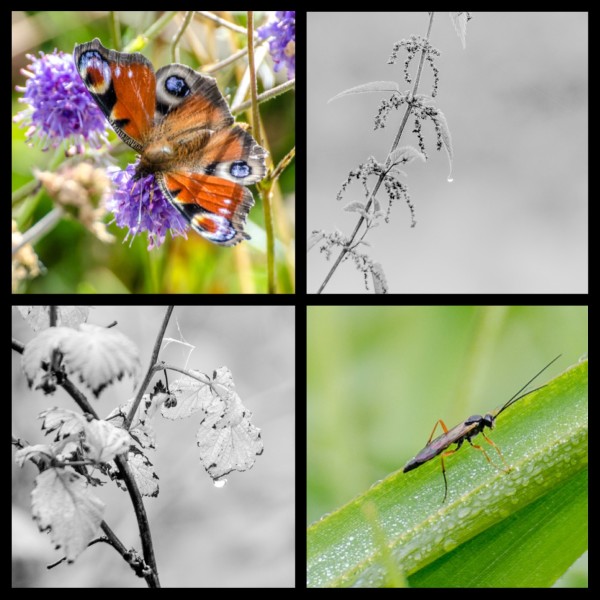 I had intended to visit the Escher exhibition in Edinburgh today, but after driving to the train station, I couldn't get a parking space. There were cars abandoned everywhere. Some on the grass at the side, some with two wheels in the flower beds, some just sitting with their engine running their occupants waiting for a space to become available. At just gone 9.15 in the morning, that was going to be a long wait. There were also around five or six cars slowly cruising round the car park looking for a space, at least I hope they were looking for a space. They might have been practising their kerb crawling skills for all I know.  After having had my time on this boring roundabout, I made my apologies and left to grab my Nikon and exchange culture for some sun on my back.
I drove to Auchinstarry and walked the walk along the railway, delighted at my decision to walk in the sun rather than stand in admiration in a gallery. There was bit of dew on the grass and spider webs along the path which is a reminder that we are more than half way through September. Also, the Himalayan Balsam plants are setting their explosive seed pods but a lot of them are still flowering. Further indications that although the sun is out, summer is now gone and autumn is certainly on its way. If further proof was needed, the leaves on the trees are turning on their autumn colours. It's all to do with the sugars, you know.
In the afternoon, I took the bull by the horns and reset my Nexus 7 from languishing in Lollypop (Android 5.2) to kicking it in Kit-Kat (Android 4.4.3). I used the instructions from here.
It worked perfectly, I'm glad to say. It just feels so much faster and smoother. Also, when I registered my Gmail address, the device immediately started downloading all my apps, so nothing was lost except data and as my worthwhile data was all stored on Dropbox, it will be easy to get that back if I wish.
Wouldn't it be great if you could downgrade your Windows 8 PC back to Windows 7?
Wouldn't it be great to remove Yosemite and replace it with Mountain Lion?
On the subject of Yosemite, It's amazing that the App Store shows that 67 people voted the OS 5 stars and 57 voted it 1 star, and if you read the reviews, most of those 57 would have given it 0 stars or a negative rating if it was possible. Hard to believe that Apple see this disaster of an OS  as the way forward. Maybe they should listen to their customers. Now, that would be innovative, wouldn't it.
If it's a bit difficult seeing the detail in the pics today, either click on the mosaic or go here.  All rights reserved and all photos copyright of D. Campbell (that's me).