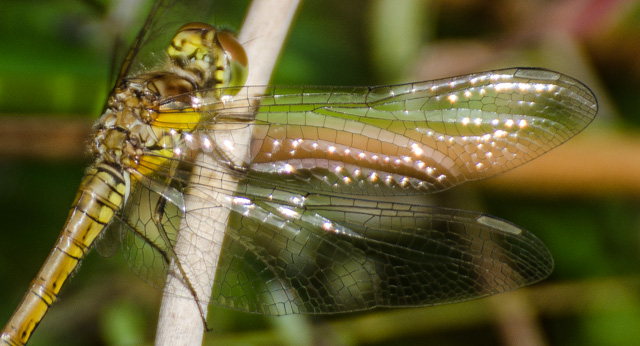 Today we had booked a table for lunch at The Cotton House. It was Scamp's suggestion. The last twice we went for lunch without a reservation, they were full and we left hungry with me in a bad temper – such an unusual state for me 😉 Today was different. We had a good lunch as usual in TCH. China tea to finish the meal. It's probably the only place where I would have this tea. To be recommended – The Cotton House and the tea.
Previously, I'd been out fairly early to St Mo's to get some pics of dragonflies. I saw a dragonfly egg laying. I don't think I've ever seen that before. It was good to go out early rather than at the end of the afternoon. Light was good then and with the sun a bit lower in the sky, it was easier to get good shadows and textures. It's all about the light.
Today's picture is of a dragonfly's wing. So often I feel that I must show the entire insect, but just stop and look at the detail in that wing and wonder at the refinements that have taken place in the 325 million years they have flown over this earth.
Earlier still I got a text from Scamp asking if our water was running normally. It appears that the main water pipe to Abronhill had fractured and the water supply to half of Cumbernauld was either undrinkable or nonexistent. Ours was ok, but the burst had caused a landslide that affected the railway to Falkirk and Forrest Road was closed. Luckily it had happened early in the month before the 'Abronhillers' have their monthly bath.
After lunch, yes I know that this is a bit disjointed, but that's the way it goes – it's my blog not yours, so to get back to today …
After lunch, I went to Dobbies and got some Cyclamen and an edging tool for Scamp. As the family gardener, she was delighted.
A mixed up day for me as much as for you.