Up early this morning waiting for a text from MPB in Brighton to tell me when my new toy would be delivered. Just after 9.30 I got the message that James would be delivering my new toy between 10.10 and 11.10am. So, only an hour and a bit max before I could get my hands on it. Just after 10.10, a knock at the door signalled the arrival of my new(ish) Olympus E-PL5 body. I carefully unwrapped it from its bubble wrap coating and proceeded to stick a lens on it, any lens, just to get a feel for it. My first thought was that it was much more compact and more rounded than the E-PL1 that was my introduction to micro 4/3rds cameras a few years ago. The screen resolution seemed a lot better than the E-PL1 too. I could go on for ages listing all the differences, but you have to remember that this camera is four generations newer than the E-PL1 and that's been my go-to camera for a few years now.  An easy to carry, neat camera that can provide me with 12MP images in RAW format that are so easy to manipulate in Lightroom. It's going to be a hard act to follow and I won't be getting rid of it any time soon, in fact I won't be getting rid of it at all. Two camera bodies with my collection of four and a half lenses. You can't really call the 15mm f8 bodycap lens a full lens can you? Ok then, two camera bodies with five lenses, is that better? Such a versatile collection. Perhaps the quality is not as good as the D7000 and the cantankerous Tamron zoom, but then the whole kit probably weighs less than that camera / lens combination. This new black beast is beautiful and so, so flexible. We'll see today just what it can do.
When Scamp came in from work we went to the gym for our second workout this week. Had a swim after, but what are all these people doing here? This is our pool. Don't they know that?
Swift dinner after the gym and then the sun was starting to warm the place up – did I fail to mention that it had been one lousy morning. Driving at 2.00pm with the headlights on is not what we signed up to for June weather. So, with the excellent 14-42mm kit lens in the bag and the Pana 45-200mm on the black beast, it was off to St Mo's to see just exactly what it could do. Don't be silly, of course I'd taken a few – around 100 – 'test' shots in the house just to make sure it was working. Walked down to the pond and found Mr Grey preening in the shallows. In case you don't know, Mr Grey is a Grey Heron who lives in St Mo's pond. Switched on the Oly motordrive and waited for him to lift off. Unfortunately for him, this time I was ready. He didn't really stand a chance considering I had 8FPS to make sure I got some good shots of him.

As I walked around the pond I spotted a single damselfly, a common blue, but A DAMSELFLY! Yes, it is June, and damsels are usually around about this time of year, but I wasn't expecting any because it's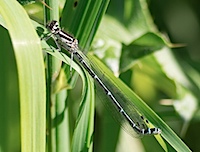 been so cold. Got a few pics, then fitted a couple of extension tubes and got a few more detailed shots.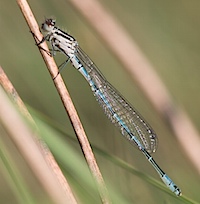 Hoped to see some deer, but they were hiding from the Black Beast. I did find another damsel near a small, possibly man-made pond near the road an took more time framing the shot and trimming back the loose grass stems. It didn't matter, there were a few shots in the bag – or on the card – so the pressure was off.
Got home, fired up Lightroom and did some pixel peeping. Everything seemed ok, if not earth shattering, but that was more the fault of the Pana zoom than the Black Beast. Tomorrow I will hopefully take it to Glasgow to give it a chance to show its mettle in town. For today, I'm a happy bunny.
My apologies to my three readers.  I thought I'd posted this blog last night, but WordPress thought differently.  I hope it's fixed now.