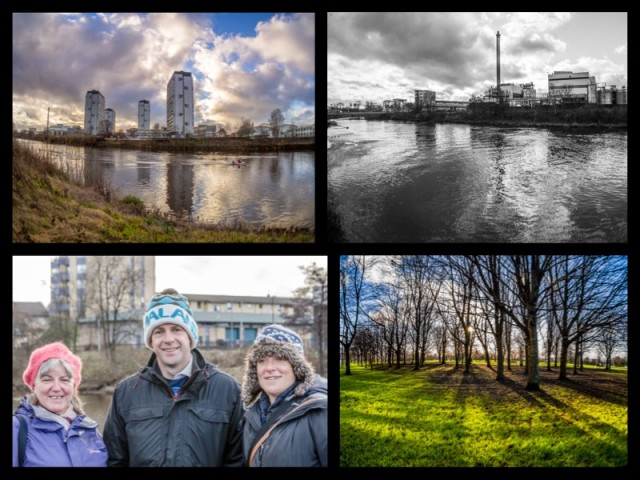 The day was bright and clear, but as Jic and Sim were meeting up with friends in the afternoon, we had to choose somewhere close at hand for a walk. Scamp picked Glasgow Green as our destination and off we went. Had a walk around our usual circuit of the Green, then extended it hoping to take in Richmond Park, only to find that they were reinforcing the bridge over the river. Don't know who the mysterious "They" were, but I'm hoping it's not Glasgow Cooncil or it may be closed for the foreseeable future.
Anyway, we turned back and headed for the People's Palace, intending to have a low fat skinny Roll 'n' Sausage and a cup of coffee. First downer, due to lack of grocery deliveries, there were no rolls 'n' sausage, in fact there were no rolls 'n' anything because there were no rolls. Ok, change of plan. A healthier ham sandwich would do on this occasion. Second downer, due to lack of grocery deliveries, there was no milk for tea or coffee either. Ok, change of plan number two. Let's leave and head for Costa at Robroyston. Hopefully they will have had their groceries delivered. They did and we got our lunch then headed home after initiating Sim into the joys of wandering around Watt Brothers.
After the youngsters had left to go in to Glasgow, I managed to get their calendar finished. Just got it printed when I noticed that January had two January 1st days, on a Thursday and a Friday. Luckily it was just the one copy printed. Got that sorted sharpish then combed it together and stuck it in a poly bag ready for them when they returned. This calendar has been on going since the start of November and I hadn't seen the glaring error. Numpty!
It's been a grand day weather wise, with blue skies but the usual accompanying cooler than usual temperatures, however the wind is beginning to get up now and heavy rain is predicted for tomorrow. Oh well, at least we all got out for a walk today.