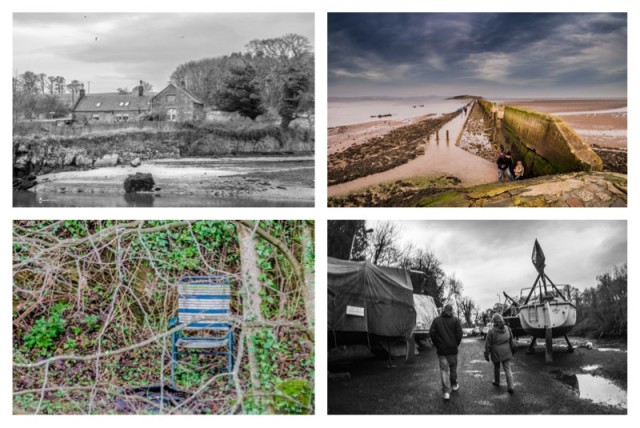 Today we took JIC and Sim to Cramond. The weather was dry and we had a gentle walk along the the Almond to the waterfall. We agreed that beyond that, the path would get too muddy and slippery for those without boots, i.e. all of us. To waste some time we watched a red rubber ball trying unsuccessfully to escape the eddy below the waterfall. (You probably had to be there!) We walked back and had coffee and a scone at the quite excellent Falls Cafe before walking down to the estuary and deciding it was just too late to attempt the crossing to the island in the shadow of the 'toblerones'.  If you haven't seen them, it will mean nothing to you. They were anti-submarine defences from WW2.
After that we drove home because Sim and JIC were meeting Scott for a liquid lunch and a catch up after twenty odd years.
While I made dinner, Scamp injected profiteroles with cream (more successfully than I did last week). Later JIC and Sim returned with the aforementioned (I like that word, did you guess?) Scott with his wife and wee girl. Scott hadn't changed a bit.  It was almost as if he had left out house the day before, rather than twenty odd years before.  They stayed, reminiscing about exotic dancing and other escapades from the past and then it was time for dinner.
I'd already booked The Legend of Barney Thompson to watch after dinner. Oh dear, I wish now I hadn't. It was the most dire film I've seen this year, or probably in any year. Whatever you do, don't watch it. Absolute Crap! The book, well the first book anyway, was funny. The rest had nothing at all to recommend them. The book was just a 'British Film'. Rubbish.
Don't know what tomorrow will bring, we'll let the fates decide.