It was a wee bit icy this morning (understatement!). So I drove 'S' to work and came back to bed afterwards to eat my breakfast and continue reading Terry Pratchett's autobiography. A rare treat (both B in B and the book). Afterwards, I took the opportunity afforded by the early rise to get out while the sun was shining, even if the ice wasn't melting. The clouds broke up for a while to give the chance of a couple of skyscapes.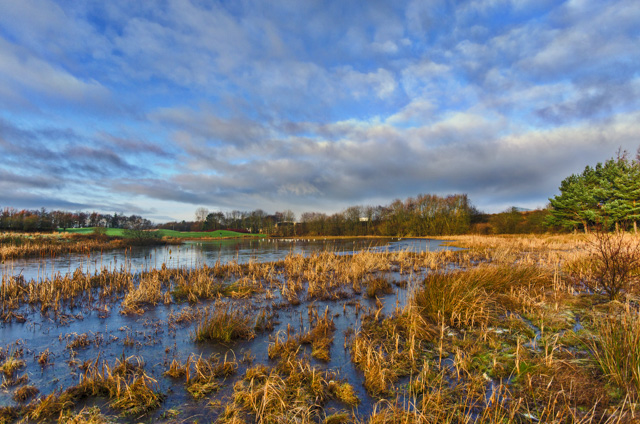 This was the view across the reed beds that NLC have deemed to be a nature reserve. Basically this meant they don't have to maintain it, saving them money and ticking the Eco box. Chancers! Anyway, as usual it provided a decent cloudscape for a photo.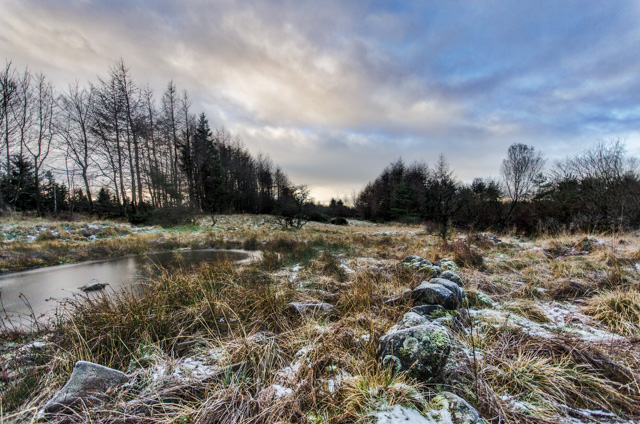 Behind the pond (NLC call it a 'Loch', but what do they know? It's a pond, right?!) is another wee pond. I think this one is partly manmade, possibly by pupils from the nearby school. It's a good place for the odd damselfly and dragonfly pic in the summer, but strangely there were none today.
365/246
It was only when I was processing these pics, I realised that there were flare marks in all of them, visible in the trees left of centre here. Checked the uv filter and it was clean, then found a fingerprint aargh on the back element. Managed to dust it off with a lens cleaner thingy. Fixed. First time for a long while I've done that.