Today was a later start than the 5.00am start yesterday. We had a look out at Livorno and then had breakfast in the buffet restaurant. After breakfast, we headed off the ship to get the free bus into Livorno. You can't just walk there because Livorno harbour is designated an industrial area and pedestrians are not allowed. Waited about 15 minutes for a bus, then three came at once. I think they must have learned this trick from the British transport system. Absolutely mental traffic system in this town. We headed away from the port, turned around and headed back again. Granted, we were on the other side of the road now, but is it really necessary to take so many twists and turns?
After 15min or so, we arrived in the centre of Livorno. Scamp wanted a map, so we headed for the tourist information place. They only had maps for the tourist Red Bus, and that wasn't what she wanted. Now she didn't want a map, so we walked through the town, following our noses. On the outskirts of the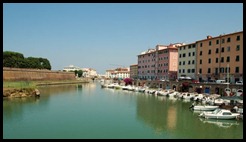 town was a great piazza and just beyond that, the river. We couldn't understand why the piazza wasn't built on, because it seemed to be completely empty, no statues or anything. Later we discovered that it was in fact a gigantic bridge over one of the many canals in the town. One of the reasons it's called 'little Venice'. Beyond the piazza was the river with loads of little boats. We crossed the road, taking our life in our hands and found a little flea market. Some dodgy people selling even more dodgy stuff. One old bloke berated me for taking his photo. He should be honoured, this was my new camera. I could see Scamp was not happy in the Livorno 'Barras', so we made our way back into town.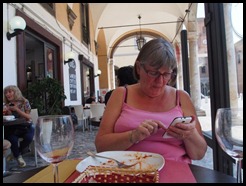 We found another market there, this time it was one of those markets where they sell just about everything. Needle to an anchor, you get the idea. Running along the side of it was the town fish and meat market. It's only when you see the variety and quality of the fish and meat available, you understand why Italians are so disappointed when they come to Britain where Tesco and ASDA pre-packed food is the norm. Next was the vegetable market. Same story, loads of good cheap veg and fruit. We really are being ripped off by the supermarkets in the UK.
Eventually we decided we'd seen enough of Livorno, bought two gigantic ice cream cones and caught the bus home. Same story as before. Waited 30min then three came at once.
Sunbathed, read and swam two lengths of the tiny pool when we got back. Dinner tonight was Prawn Cocktail, then Fried Cod with butterbean sauce and roasted sweet pineapple and icecream.
Wander round, watched the show which was good. Had a drink and even managed a dance on the pool deck. Then headed to the cabin. Captain's reception tomorrow. Black tie affair.