Today we awoke to grey skies and just the occasional spot of rain and temperatures of around 23degrees. It didn't stop us having breakfast outside – mainly because there were no seats inside, but that's a common problem on 'at sea days'. Scamp wanted to go to the ballroom class, so we trotted off to the Starlight lounge and learned the basics of Cha-Cha. We had already a good grasp of the dance because we'd I'd tried to learn it many times in the past. Quite enjoyed it, for once, and not just because there was nothing else to do but look for dolphins. No, we didn't see any, but loads of folk were adamant they had. Captains message at 12.00 mid day said amongst other things that the ship gets 90 gallons to the mile! Incredible figures.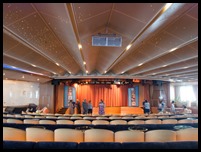 The afternoon continued in the same weather vein, not to be confused with a weather vane which is a totally different thing. If anything, the wind got stronger and the temperature dropped a few degrees. After lunch we went back for another dose of Cha-Cha. This time there were turny bits as well as the basics. I had had problems in the morning dancing in my sandals, but in the afternoon I danced in my shoes. No difference. I ended up dancing in my sox. Ah, that was much better, if a bit more dangerous. After
the Cha-Cha lesson, Scamp wanted to go to a piano recital. I couldn't think of anything else to do, so I went too. By the time it was over (Yes, I did enjoy it), we went for afternoon tea. Life 'on board this iron ship' – Tom Waits quote – is one long round of eating, snoozing and drinking. After that we sat and watched the sea. Until you've tried this you will have no idea just how relaxing it is. A great therapy. Took some photos of the sea as reference material for a painting. Everyone seemed to be convinced I'd seen a whale or a dolphin pod, it's what gets photogs a bad name. There was allegedly a pod of whales spotted this morning – again I say, allegedly. Just another way to keep the gullible amused on a dull sea day.
By then it was time to get dressed for the black tie event, so it was kilts on time. Nearly met the captain which was a narrow escape for him or us, you choose. However we did speak to Olly who was a junior Second Officer and had a nice white uniform. He seemed fairly pleasant. Didn't get much time to talk as the captain was beginning his pre-dinner speech, which for once was quite witty and interesting. Dinner was good. I had Smoked Salmon starter with a main of Duck Breast in a Cherry sauce then biscuits and cheese. Scamp had Asparagus with Egg and Parmasan wafer for starter then Lobster then Panacotta with Strawberries cooked in Prosecco. We've picked up another couple at our table as the first two have deserted us. Was it something we said? These two seem nicer ( I hate that word, but it's late and it will have to do!).
After dinner we wandered round wondering what to do. Scamp wanted a formal picture taken so we did that, then went for a drink in one of the quieter areas. Listened to another pianist and then watched the dancing, ballroom dancing, not real dancing. Finally I plucked up enough courage to stumble round the floor in a semblance of a Cha-Cha. Scamp seemed pleased that I'd made the effort.
Then the strangest thing happened. We'd found our way to the place where you get late night hot chocolate. I'd just sat down when this American girl came over with her boyfriend/husband and said "Can I have my picture taken with you." I thought, why not, so she got her photo taken with a real Scotsman from Scottishland wearing his kilt. I'm sure it'll be on FB as I write. Strange and funny end to a long, mostly dull day with a few bright intervals. Weather was much the same.
Onward to Naples tomorrow, hoping for better weather.