Still catching up after our visit 'darn sarf' as Ray would say.
The day started with brilliant sun shining in our window this morning.  Looking out over the livery area with three or four horses in the fields.  After breakfast, J & S took us to Chapham's butchers in Baldock to do their meat shopping , Chapmans.  It really is a carnivore's delight.  I decided on the spot that we would visit on Monday before the drive north.
Back to the house to deposit the meat in the freezer and then off to Grafham Reservoir for a walk.  The day hadn't brightened very much, but we were off to Grafham  By the time we got to Grafham it was quite cool and windy.  Had a bracing walk half way round the lake and then back again.  Watched a couple of blokes fishing and catching some nice looking trout, but it would have been a cold day for them all.
At night we went to Korean restaurant, Gangnam Stevenage for dinner.  Very interesting and tasty dinner.  I had Korean Orange Juice as my drink, which tasted like er … diluting orange juice.  Possible safer though than Aloe Vera Juice.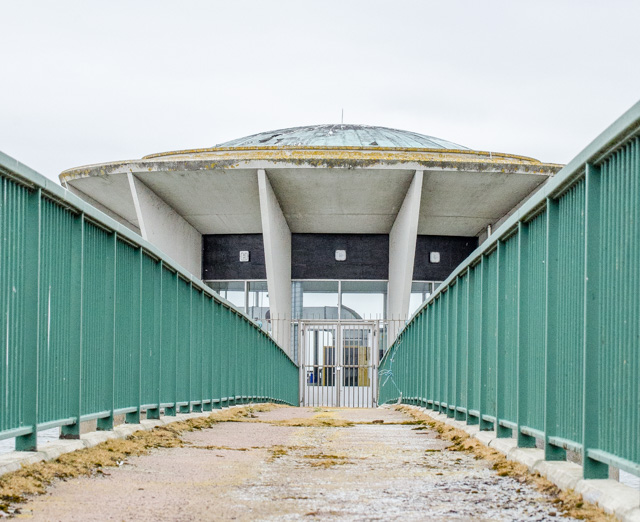 Looks like an alien spaceship, but it's the pumping station at Grafham reservoir.
365/080