It must have been the solar eclipse that addled my brain, it must have.  After risking damaging my retinal taking some shots of the eclipse with the 300mm end of my tele lens, I packed the car for the journey to visit my son and his wife in their new house in Astwick which is in deepest Englishland.  It was only after travelling about 50 miles, I had this scary feeling that I'd left the camera at home.  I remembered packing the tripod, but did I also pack the camera bag?  Stopped at Abington services and my fears were realised.  No camera.  I couldn't stand being separated from my beloved D7000 for a whole weekend.  Nothing would do but I head back, pick up the camera and head south again.  At least I didn't feel as bad as the poor soul in the car behind me who had a police car with blue light flashing behind him.
Next problem was at Penrith where there were dire warnings about lengthy delays on the A66.  Not to worry, we'll just carry on down the M6 and cut across country when we get a chance.  This we did thanks to some excellent map reading by Scamp in the navigator's seat.  However, this made us even later as it added a few miles and an hour to an already late schedule.  Arrived at the house at about 8.00pm to a lovely supper of sea bass and salad.  Then off to bed to see what the next day would bring.  At least I'd be able to photograph it.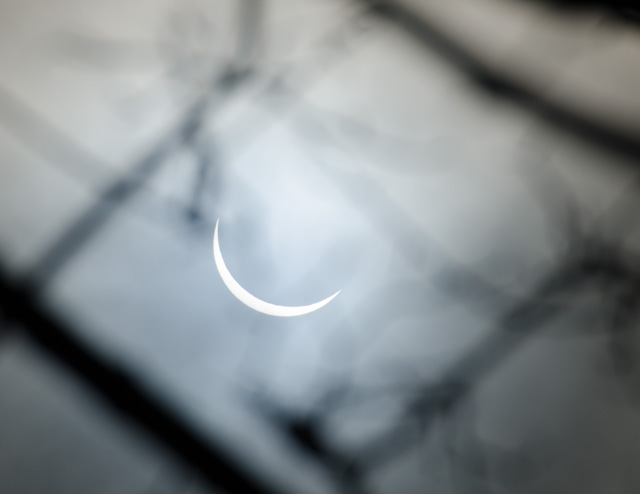 Almost at totality the clouds thinned for a moment to reveal the best view of the eclipse we got, even if it was through the trees. Birds were going crazy, getting ready to roost and it became very dark.
365/079