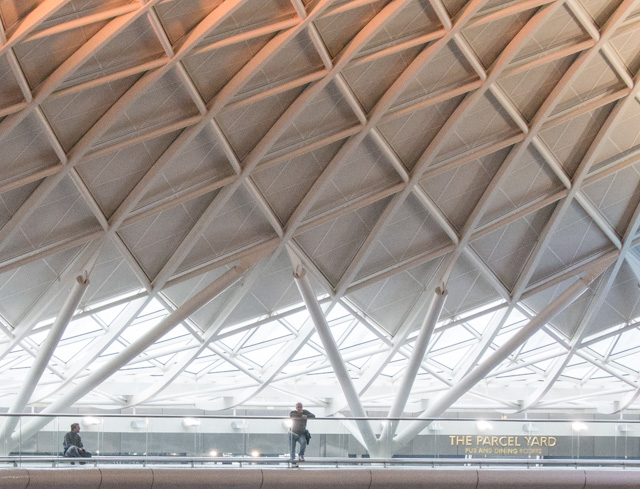 The day after the day before. Another early rise to pack bags and get on the road North. Said our goodbyes and walked to the station where we were just in time to get the train to Vauxhall. On the walk I spotted a couple of restored classic cars I'd seen on Friday. I just had to get a photo of them.
From Vauxhall we took the tube to Kings Cross St Pancras and walked the ten miles through the station up escalators along corridors and up stairs (always up) until we reached Kings Cross Station. I took the usual and now traditional photo of the roof of the station. Such an icon. After that I managed a few shots of silhouettes on the walkway at the end of the concourse. Soon the train was posted and we were off on stage four of the journey. Comfortable if quite old rolling stock for our run to Embra. Took our time when we reached Embra to get some milk and bread and then it was onto the train to Croy. Phoned ahead and the taxi was waiting for us just as we got in to Croy. Completed stage six and after we had cleared away all the junk mail from behind the door, made some tea and had a seat in our own house.
Nowhere, no offence ND and Hazy, is as comfortable as your own home.
One last thought. When we were on the stage one part of the journey we passed a house with a sign at the front saying "NO Junk Mail". I wonder if it works.