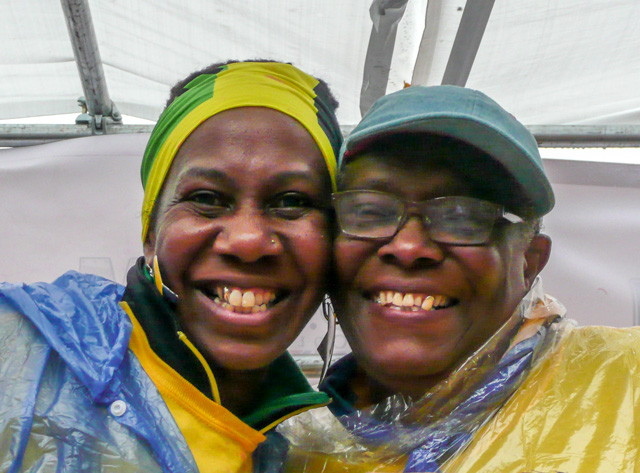 Not without a little trepidation, we were up and out to Morden to get the train or to be precise a combination of trains to get us to Notting Hill. The rain that had been torrential through the night had all but stopped as we walked out of Holland Park tube station. Then CD put on his raincoat and that presaged the deluge that was to follow. Ponchos on, we got to the meeting point at corner of Ladbroke Grove and Elgin Crescent and found a dry(ish) spot under a chestnut tree. Met up with JIC and Sim and we were good to go. People were assembling near us and we were standing just beside the booze wagon. What better place to be. After an hour, it looked and sounded like the carnival was set to start when the bombshell hit. Police and licensing board arrived and started to unload all the booze into two box vans. It appeared that the 'band' ( the group we were walking with) didn't have a license to sell, or even give away (!) drink. I seriously thought there would be a riot, but some bloke got on the speaker and told everyone that they didn't need alcohol to have a great party … and he was right!
After another half hour or so, we started walking. At first there was a bit of confusion because we weren't wearing the proper uniform. Tee shirt and headband on (Scamp and I refused point blank to wear the shorts), we were in. I reckon I must have danced my clumsy way along the road for an hour before I realised that I was totally sold on this madness. After that, it was just a case of trying to get some photos of the carnival and keeping to the beat. That and avoiding people 'wining' in the middle of the road. Until we went to Trinidad in 2014, I'd only seen dogs doing this in the middle of the road. If you don't know, 'wining' has nothing to do with wine, but everything to do with Soca. Google it, that's my advice.
About 3.30, Scamp decided that we should give it another half hour and then make tracks for home, well, Hazy and ND's house. CD agreed and after another 20 minutes or so we made our excuses and left the band. Tried to get to Holland Park, but the police said that wasn't possible, so we made our way to Kensal Green, thence using CD's excellent knowledge of the Underground system by a variety of lines to Morden where we had started this surreal day. ND picked us up and after dropping off CD, took us back.
Later we shared pizzas because I knew it would settle my stomach. I blame the Coke in the Rum and Coke that had helped fuel our day. Yes, I know, the polis and excise had taken away all the booze, but that hadn't stopped Sim from nipping out of the band on a couple of occasions to the off license to get a bottle of rum.
It was early bed tonight, because of our tired little toes, but oh what a wonderful day we had. I don't believe in 'bucket lists', but if you have one, add Notting Hill Carnival to it. You won't regret it.