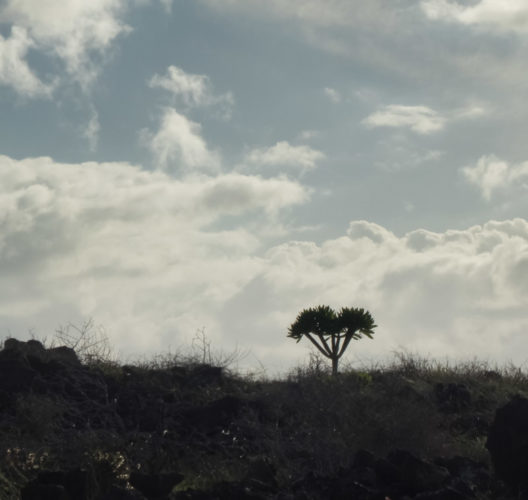 The sun was out so we were too.
After breakfast we sat and read in the sun, then we went for a walk, but we were soon back again in the sun. There was packing to do, but the sun was more important and it won again.
After lunch Scamp went down to the pool for more sunbathing and I went for a final walk over the lava rocks, hoping for a good final pic. I got some more shots of the Brimstone that was still fluttering around the rocks. However, the winner of PoD was a moody shot of some cactus against the sky. I also remembered to get some shots of baked mud to use as textures in photos that need a bit of extra grunge.
Back at the hotel I started my packing because Scamp had already completed 90% of hers. Then it was out to dinner in the main dining room. Sat inside after dinner and played another round of UNO. No definite winner this time round, so it looks like Scamp is the 2018 Holiday UNO Champion. A few drinks and back to the room to finalise my packing and finish off the gin. Neither of us were desperate to see the Crazy Show by the entertainment team and the last time we'd looked there were dozens of kids from the kids club pushing little chairs round the dance floor while the singers, who were the live music for the night, were trying to ignore them. Chair pushing seems to be a big thing at Riu Paraiso. Kids seem to practise it every night, getting in everyone's way. If the americans can get good at it, look out for it in the next Olympics. As a result, it didn't look as if we'd get a dance tonight. What we did do was sit in the room with the sliding door open and finish the aforementioned gin.
Just before we went to bed, I was sure I could hear a mosquito's high pitched buzz and once we turned out the lights, I was sure there was one in the room. I thought I'd silenced the little buzzer, but I was wrong.
Tomorrow is going to be a long day. We needed a bit of sleep.