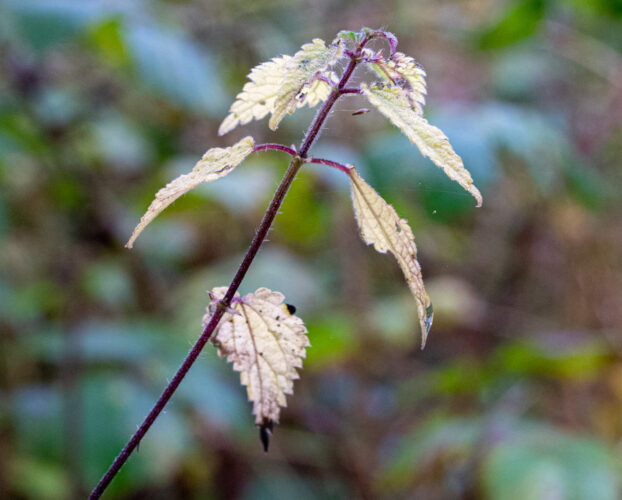 Literally and actually.
Another wet day but I had a job to do today. I had to fix the broken lock on the bathroom window. Found what I needed at the B&Q website, but of course they didn't have that cheap model in the store, only the dearer ones. I took one anyway after I'd checked that the screw holes in it lined up with the screw holes in the one I'd removed from the window yesterday. Drove back via Tesco for bread and a couple of bunches of carnations to brighten the kitchen and the downstairs toilet. Surprisingly the fitting of the new handle was simplicity itself after I'd confirmed that it could be used on the left side or the right side of the window, some can't. Job done.
Lunch was a bowl of yesterday's soup which was fairly tasty and warm. With a couple of slices of bread to dook in it, it was even better, but I wasn't feeling too great. Aching shoulder from yesterday's Covid booster jag and also that "coming down with a cold" feeling. Shivery and aching. That too could be from the jags, the flu jag this time. Scamp had a parcel to post to Skye, so that gave me an excuse to go for a walk with her to Condorrat. Came home via St Mo's and I had a camera with me, so I took some photos although my heart wasn't in it and it was raining. Best of a bad lot was a nettle that looked like I felt, washed out. That was PoD.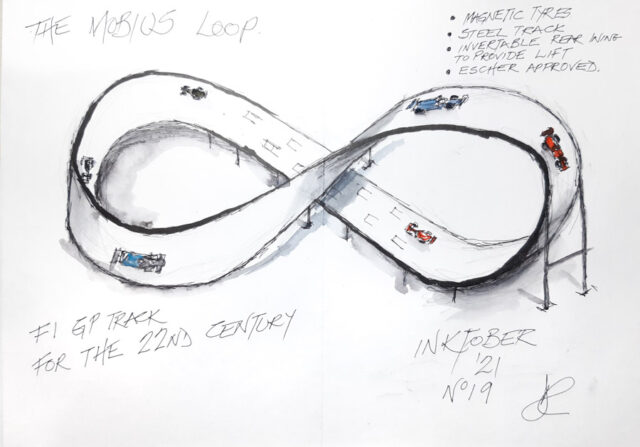 Scamp made dinner tonight which was chicken curry. Chicken Tikka Masala to be more exact. It was good and hot made from a Pataks kit. Another company jumping on the bandwagon that Spice Tailor started. I still think Spice Tailor is the best for range and taste although today's offering would give them a run for their money. While Scamp was making the dinner, I was trying out my idea for today's sketch. The prompt was 'Loop'. Not the most interesting prompt, but it's what I had to work with. I finally settled on a Mobius strip which is a loop with only one side. Its inside turns out to be its outside too. Just look at the sketch and you'll get the idea. Follow the little cars and see where they go. It's a fantasy Formula One race track called the Mobius Loop and yes, the cars do have to travel upside down. That's what the magnetic tyres and the steel track are for! Following yesterdays lateral thinking again. I won't say it's my best sketch, but it's different and it fulfils the prompt.
Took a couple of paracetamol after dinner and felt better. They're beginning to wear off now, but I'll take a couple more before I go to bed. I might even have a wee hot toddy too.
Hopefully meeting Alex tomorrow for a walk around the West End of Glasgow. That should be fun if I'm up to it and I think I will be.