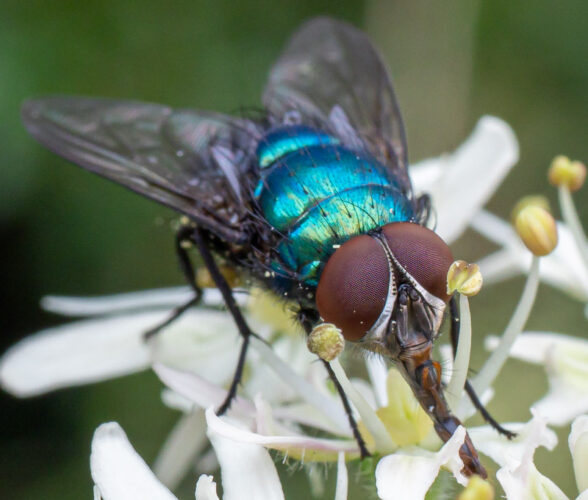 Rain and lots of it for most of the day.
We kept waiting for the rain to go off, but it just kept coming. Sometimes light, sometimes a bit heavier, but generally just a constant drizzle that, while good for the garden, wasn't much good for photography.
Eventually after lunch I did make the decision to go out and try my luck because the rain had nearly stopped. While I was walking, my camera, in my bag, managed to take over 100 shots of the inside of the bag. That's what happens when you forget to switch off the camera. Then you wonder why you have no space on your SD card and also why your battery is nearly flat. However, under MY control the camera did manage to take a few decent shots. My favourite, and PoD, was the close up of the bluebottle. If you ever wonder why you can't sneak up on a bluebottle, take a look at those eyes. The compound eyes of flies are made up from thousands of individual receptors each one covering a slightly different, but overlapping area. So what the fly 'sees' is the world around it as a mosaic built up from all those thousands of cells, covering nearly 360º in every direction.
Watched an old film on iPlayer tonight Down Among the Big Boys (1993) starring Billy Connolly and Douglas Henshall. Great fun trying to work out where all the street scenes were filmed and also trying to work out who some of the bit player were. Silly story line, but interesting enough for a Monday night.
Tomorrow Scamp has a coffee appointment with Isobel and I've got the morning off. It might be dry, the weather fairies say, so I might get out somewhere scenic for a change … might!