Up early, yet again because the workies have to fix the sink in the bathroom, whilst ignoring the bashed and dented set of drawers and the dodgy bedside light and the dripping air-con outside. Oh well, at least they're making a start at fixing this old ship. I think if we slap another coat of paint on the metal parts and then a coat or two of varnish on the woodwork, most of the geriatric passengers will never notice the ship is sinking. Anyway, up at 7.00 and on deck by 7.30. When the gangways were set up and "a secure area had been established around Oceana" we were ready to disembark and make our way into Corfu.
We decided to get the bus in to town then walk back. We walked around the old harbour and into the old town. Scamp settled on a ride on the wee train. She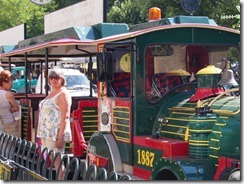 always makes a bee line for these wee trains. Sometimes they are a lot better than the Red Tourist bus, mainly because they go slower and give you a chance to see what the commentary is describing. I really enjoyed the ride, but the roads around here are terrible, even compared to our potholed roads. You sometimes have to visit somewhere like this to appreciate how fortunate you are. After the train ride, we walked through a large park in the centre of town. There we saw more evidence of Greece's financial dire straits. It didn't look as if the place had been cleaned for weeks. There was litter everywhere and the grass was dry and burnt looking. No work had been done on the flower beds and there were weeds growing through the paving stones. It must be difficult living in a country with a national debt problem. Across the street there were horses and traps taking tourists around the town, but we didn't bother. We'd been on a train. Behind the horses was a cricket pitch! Apparently it dates back to when Britain owned or ran Greece. It was probably Britain that showed the country how to get into debt in the first place! (A little bit of politics there).
I'd brought my laptop with me so I could update the waiting world with this blog, so we went looking for an Internet cafe. There were plenty of cafes offering free Wi-Fi, so we stopped at one, had a beer each and the blog was uploaded in a much faster time than the ship's Wi-Fi. I found out how to say "Thank You" in Greek. It sound like "e phar ee sto" with the emphasis on the sto. I stopped to buy some natural sponges for watercolour painting and Scamp bought a bag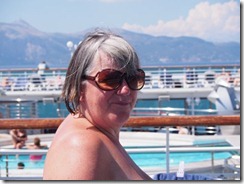 for taking her lunch to work. By then it was time to go back to the ship. We walked back and although it looked like a long way, it was really a pleasant walk. Had lunch when we got back and then sat near the pool, both of us managing to swim a bit and soak up some sun in the Jacuzzi. Oh, yes and the sink was done, and a very nice job they've made of it.
We watched the start of the sailaway and then went for dinner. Steak tonight was too well done. It seems like a hit or a miss. Maybe it depends on who cooks it. Thanks to the four at the opposite table drawing back their curtains, we got to watch the scenery float past. Not as dramatic as last night, no submarine pens, just rolling hills in the middle distance.
After dinner Scamp wanted to hear a piano recital and I swore at this slow computer and the badly written File Juggler. It's supposed to be the PC equivalent to Hazel (Hazel the app, that is!), but it's nowhere nearly as clever as that. It works – kind of, and not all the time. Pretty pointless really. However it passed some time until Scamp was done, then we went to the Tropical Party on the pool deck, where we used to live. It was dire 1960s Hi Di Hi holiday camp nonsense and the wind was cooling me down, so we left.
Drink, hot chocolate and bed in that order. Not getting up early on purpose tomorrow. Not for nobody. It's Sunday, so it's a long lie in. That's the plan anyway! We can but hope.