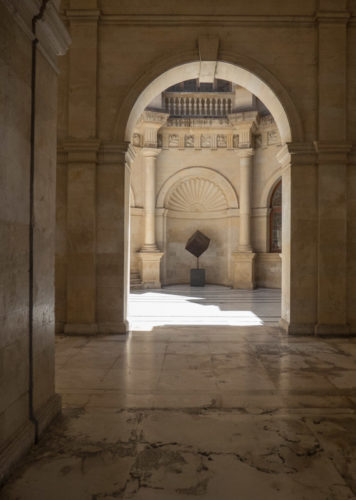 It's fascinating watching other people work, especially when you're on holiday.
In the morning I watched a crane with grab loading scrap metal on to a ship. Maybe it's a 'man thing', but I just found it fascinating. It wasn't just the amount of scrap they dumped at a time, but also the delicate precision with which they could pick out a car tyre from the load that was dumped on the quayside and put it into another pile. Like I say, maybe it's a 'man thing'.
We walked in to to town of Heraklion, or rather, the Old Town. It didn't seem like Rhodes, the other walled town we'd seen. This one seemed a bit more run-down.
After walking for what felt like miles we found a little train, a trolly train I think it's called and it took us round the walls, in and out of most of the city gates, because it is a city, not a town.
It was quite dilapidated in places furthest from the sea. Lots of old crumbling buildings and football pitches with knee high grass.
We got off at the wrong stop which was supposed to be for a shopping centre. It didn't look like one, it didn't even look as if there had ever been one there, and had to walk for a bit in the hot sun. What we did find was an Italian cafe where we had an overpriced latte for Scamp and cafe freddo for me.
Walked round some ruined buildings with a new church in their midst and eventually found the town centre exactly where we'd got on train.
I got a tee shirt, probably the best one I've got so far
Scamp found an M&S! Demanded she have her photo taken outside it! She never asks for her photo to be taken outside Marks in Stirling or Glasgow. Maybe it's a 'woman thing'!
Cafe Jardin at night (second formal night). We both had risotto which was absolutely beautiful. This was the second menu.
Danced for a while, then off to bed after a wee G 'n' T on the balcony watching the stars.
PoD was a steel cube on a plinth in a sort of town hall building. Couldn't understand the significance of it, but very elegant building.
Sea day tomorrow.