Today, we had already planned would be different to Friday.  We were going to relax today, and that is what we did.
Scamp had cut a rose "Remember Me" yesterday to prevent it being damaged with the heavy rain and high winds.  Today it had opened out fully.  Although there wasn't much scent from the flower, the colour was exceptional.
We only drove as far as the railway station today and let the train take the strain for a change.  We walked round Glasgow and had a light lunch in Patisserie Valerie.  Food was excellent, but service left a lot to be desired.  Why does it always happen to us, I thought?  Then, when we went to pay, it turned out that everyone had the same complaint – slow, slow service.  One man waiting to order his pastry had the perfect response when the girl asked him what he wanted.  "Actually, I've forgot, I've been waiting so long to be served" was his reply.  Nice to know we were not alone.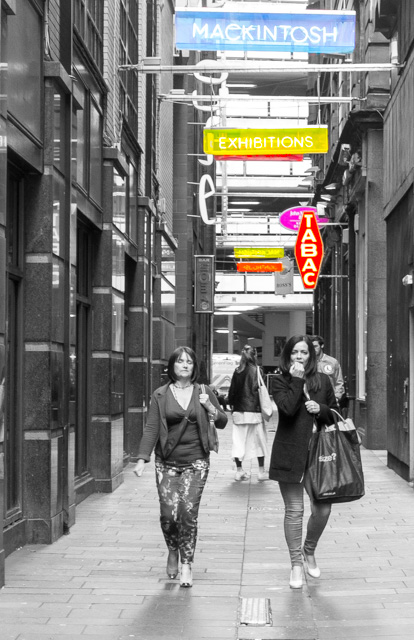 On Buchanan Street, I waited for ages (well, about 2 minutes) to take a photo of Mitchell Lane with its colourful lights, but stupid people just kept getting in the way.  I don't know what the secret is to getting them to move along.  I think the best thing is to pretend that you're taking photos of them.  I think that might work.  I'll try it soon.  This one started as a colour pic of course.  After the usual levels and adjustments, I painted a desaturation over the whole pic, then simply erased the desaturation in the selected areas.  So simple with only Lightroom tools.
Went to Halfords on the way home to uplift my new bike rack.  Couldn't believe how light it is.  It hardly looks as if it is up to the job, but I'll try it out tomorrow or Monday and give a review here.
A relaxing day after yesterday's stress.