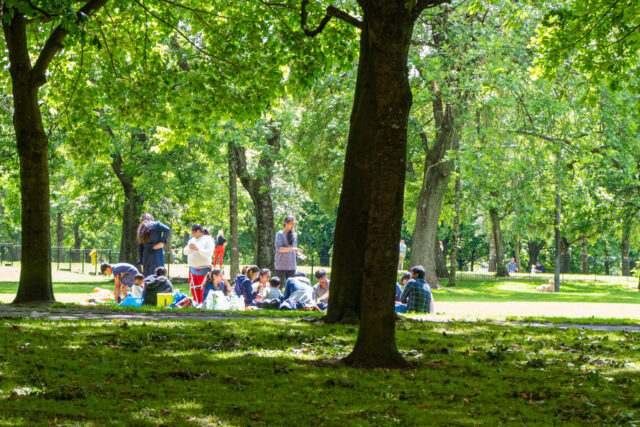 None of yer Slow – Slow – Quick – Quack – Slooow, ballroom dancin'. Dancin'! Reely dancin'. Salsa dancin'.
Spoke to Hazy in the morning and thanked her for her very funny card (No, I wasn't offended, I can improve in the resit!), and her Father's Day present. It's official now, I'm an Artist! I've got the mug to prove it! Good to know that you didn't have too much trouble with thunderstorms down south.
It was a lovely morning and I'd actually planned to go for a walk in Colzium estate, but left it too late, as usual. Instead we took our time over lunch and then got ready to drive down to Glasgow Green for today's main event. Shannon the salsa teacher had organised a Salsa Picnic, bring your own blanket and food. We got there just as things were heating up and after meeting folk we hadn't seen for years, we did manage a few dances. Then more chatting to old friends, then Shannon started a Rueda where we dance with a partner in a big circle and the leader calls out the move and everyone performs it at the same time. Then we change parters when we're told to and so it goes on. That's the theory, anyway. In reality it never works quite as smoothly or as simply as that. Some folk had never danced a Rueda before, others thought they knew, but didn't. It was what it usually is, a car crash. But, and this is the most important thing, but it was a good humoured car crash. Nobody fell out with anyone else, everybody, even me was kind and considerate to everyone else.
However, dancing two Ruedas, one after the other and energetic couple dancing too takes it out of us 'oldies', so we excused ourselves and went for a walk round Glasgow Green where there seemed to be an early Gay Pride meeting for teens. We walked round it but didn't buy into it. We'll wait for the real Gay Pride procession in Glasgow on Saturday. So much more, I don't know, maybe just grown up!
We walked back to the Doulton Fountain where the salsa was going on. We had another dance and then found more folk we hadn't met face to face for years. I took a few photos, but my favourite and PoD was one of an Indian group having a big family picnic on the grass of The Green. One of the salsa dancers had brought his drone along and was filming the dancing from an elevated position. However, my little brain was full and I'd danced almost all moves at least twice. That's what happens when you don't practise every week, you just remember the moves you like the best. We drove home.
We sat in the garden for a while with a good book each soaking up some sun and watching the busy bees. Since it was Father's day, I got to choose my dinner. I chose Mince 'n' Tatties and Scamp chose 'Rats'. It's nice to get real (not posh, not fancy) food.
Spoke to Jamie later and told him I appreciated the 'Scottish' Father's day card from my 'Wane' not 'Wain' as some say or 'Wean' as it should be. Good to hear that they are bat free at present. If you have any more problems with the bats, just call in Hazy and Neil, they have experience dealing with the flying rats!
A few more minutes out in the sun, then it was time to call a halt, because that east wind was becoming a bit cool, so it was time to bring the seats in and shut the back door.
That was a good day. I thoroughly enjoyed it. So did Scamp. So nice to have a dance in the sunshine and to have such a clever and thoughtful family behind you.
Maybe going east tomorrow and maybe on the bus.