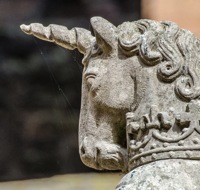 Today, being Scamp's day off, she got to decide where we were going. She settled on Linlithgow and off we went in the sunshine. Got the last parking place at the Palace and used our Historic Scotland cards to get in. Light was good on the ornamental fountain in the courtyard. Of course, as soon as I pulled the camera out, the sun went behind a cloud and stayed there while I waited and waited. Eventually we wandered off to explore the "Original Entrance" which was closed off to prevent the unwary from a 20′ drop onto the  rubble below. When we returned the sun had returned too, so I got some shots of the stone carvings around the fountain. We had been around the palace many times in the past, so we headed off down to the loch. It had been the original intention to walk round the loch, but as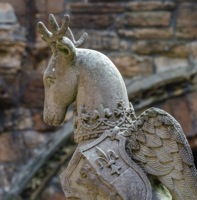 that is quite an undertaking, we left it for another day. We walked along parallel to the main street and watched a wee boy feeding the ducks and chasing off the gulls (AKA shitehawks, although he didn't call them that) telling them they were bad. Watched some guys fishing from boats on the loch for a while.
Walked back into the town and found an Italian restaurant that Scamp had had her eye on for lunch. Went to the fish shop and came home.
If all this sounds a bit prosaic, remember that I am not really writing this for you out there on the interweb, as much as for family and friends as a way of keeping in touch and also for myself as a record of what, where and when things happened during my first year 'Out of the Saddle'. Feel free to read, but realise that if you don't fall into any of the F&F categories, it will often mean very little to you, and so to the photo of the day: