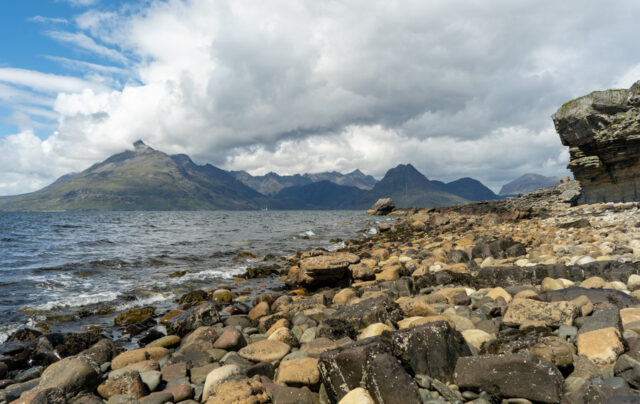 Today we finally made it to Elgol.
That strange place where the road leads to the sea and stops there. When the light is right and the Cuillins are lit by it it's magical. Also when the light is poor, it's mystical, seeing the mountains appear and disappear as the clouds break. Whatever the weather, you can turn your back on the crammed car parks, the pop-up coffee booths, the stalls selling trips out on RIBs to the islands and be somewhere else. Unfortunately there are masses of people arrive here, stop and say "Is that IT?" "Is this why we drove for miles and miles along a single track road in the rain, to see some mountains and some sea?" YES! "There's not even a decent chip shop" NO! That's part of its charm. Have I given you the impression that, I like Elgol?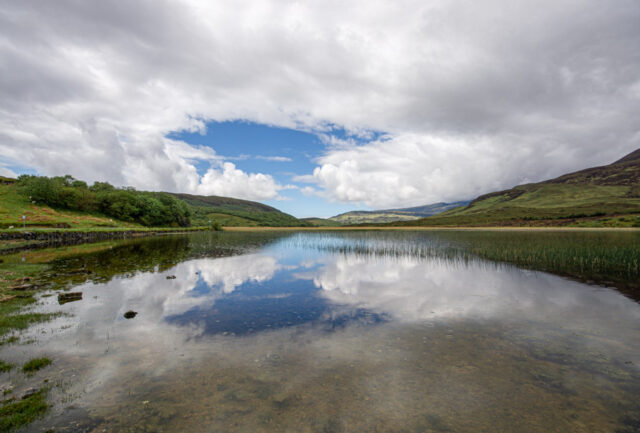 It is a long drive from Staffin. All the way south to Broadford on the 'main' road. Then onto the single track road out to the west to Elgol. It's around 55 miles and takes about one and a half hours. Going back it's another 55 miles and another hour and a half because there is no alternative route. We stopped for petrol in Portree on the way down and drove down to just past Broadford where we stopped at Loch Cill Chriosd. A lovely quiet spot with beautiful views on a good day and today was a good day. There's an old ruin of a church there, the Church of Kilchrist, but I was more interested in the landscape round the loch which is almost covered with rushes. On a day with little wind, the loch produces beautiful reflections. It was almost perfectly still today, although there was a shower of rain. Photos taken we pressed on to Elgol.
It was really busy. Cars and vans of the camper variety parked everywhere and anywhere. Scamp saw a likely place to park up near the village hall. There was one space left. Luckily we only had one car. She took some photos and then went to the village hall which had a tea shop beside it. I'd remembered my boots this time, so I headed down to the 'beach'. As I've said before 'beach' is a misnomer. There's no way you could erect your deck chair on this beach with rocks that are graded from fist sized stones to man sized boulders (or should that be 'person sized?). However, those boulders didn't stop a bridal party in suits and sticky-out white dress tying the knot beside the big eroded cliff! I was a bit peeved at first because that was one of the spots I wanted to photograph, but they were there first and I was only a nuisance photog who would have to be photoshopped out of their photos later.
The weather was jsut perfect and I got the photos I wanted with the equipment I wanted to use. I'd brought my old 10-20mm Sigma ultra-wide lens, fitted on the A6000 camera. It's a really good lens that only works in manual these days, but I don't mind that because it produces such good results. I'd brought the A7iii and kit lens as well, but having both meant I didn't have to swap lenses. Someone had been thoughtful enough to sail a three masted sailing ship into position below one of the mountains as an extra little interest point.
After a while I'd taken all the photos I wanted and headed back up the steep hill to the tea shop where I thought Scamp would be waiting, but she was off on her own climbing a hill to another viewpoint, but had seen me and come back down again. I know now that we should have walked back up to the viewpoint, but honestly I was knackered with climbing that hill. A cup of tea helped and then we drove back those 55 miles to the house.
Earlier in the day we'd said goodbye to June and Ian who were off in the morning with Jackie to catch the bus that would take them down to Glasgow. I didn't really envy them the trip, with their first, and only, stop in Fort William. Then the next half of the journey to Glasgow itself, then another bus to Cumbersheugh. In another way I did envy them the ability to just sit there in relative comfort instead of having to drive down the road. That's what we'd have to do tomorrow.
We'd been invited to Jackie and Murdo's for dinner. It was a reasonably comfortable night, so we just walked down to Burnside. I was cautious with my alcohol intake because I knew I was driving us home the next day. Scamp got the offer of a dress for the next wedding from Jackie, an offer she couldn't or wouldn't refuse, so we carried that back to the house later. We'd still a few things to pack, so with that done we went to bed, because tomorrow was going to be a long day.
PoD just had to be Elgol!
The only plan for tomorrow was to stop at Columba for a slice or two of the wedding cake, then drive, drive, drive.