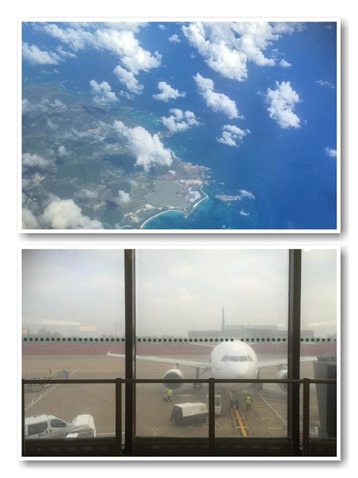 The first line in an old John Mayall song, but also a good description of today.
The day started with an alarm at 6.30am. After a quick shower, dressed and a key drop, we were out of the Hilton and into the check-in. Quickly through there for once and then into security and then breakfast. After that we just waited for the call to the gate. Basically, everything went smoothly.
Up through the light fog and cloud layer and we were out into blue sky. Second music quote of the day is "Up above the clouds there's always a blue sky" Can't remember who by, but I'll maybe remember by the end of this write-up. It's a long flight, but a wee snooze on the way and a film on the way helped – "Miss Petegrine's … " had to do because Ghostbusters 2016 didn't want to play. Over eight hours and with an hour stopover at St Lucia. Landed 15 minutes early in Port of Spain. That's when it all stopped working.
Immigration at Port of Spain is a nightmare. Over an hour just to hand in our passport and a piece of paper that we'd already filled in. The officials are so laid back, they might as well be going backwards. We saw Irish, Czech and Africans being refused entry until different parts of the form were completed satisfactorily. In some cases, until money had changed hands too. We were dealt with quickly and efficiently by official number 9 and eventually got through to pick up our cases and meet M&J who were waiting patiently outside. That's where we realised that the air-con in the immigration hall was really efficient. It was warm outside at 7pm.
Got driven back to M&J's house. The same one we stayed in almost three years ago. Drinks, catchup, supper and a very early night. When was the last time we went to bed at 9pm, although in real time that was about 1am.