I had tested a new lens in Jessops yesterday.  A Tamron SP AF 70-300 F/4-5.6 Di VC USD.  Two questions.

1. Why do I have to pay a tenner more for the Nikon version than for the Canon fit?
2. Why don't Tamron give the lens a more sensible and memorable name?
Anyway, yesterday I was just off the leash for a while and hadn't intended testing said lens, so the manager kindly allowed me to test it on a demo D7000.  Luckily I had an SD card with me and got a few shots.  When I checked them on the computer, they weren't anything worth writing home about.  I visited again today with my D7000 and tested the lens again. I liked the feel of the lens and the VR function seemed to work well.  Unfortunately, Jessops didn't have any in stock, but the attendant offered to sell me the demo model from the shop, at no discount!  Although she did say she would give me a discount on a filter.  Big deal.  Not the sort of offer that encourages me to go back again.  Isn't it inflexibility like that which makes buyers go on-line to the likes of Amazon?  Unfortunately, it was all pretty academic, because when I got the images into Lightroom, they were nothing great at the 300mm end.  Up to 200mm they were fine, but like most long zooms, the quality fell away at the long end.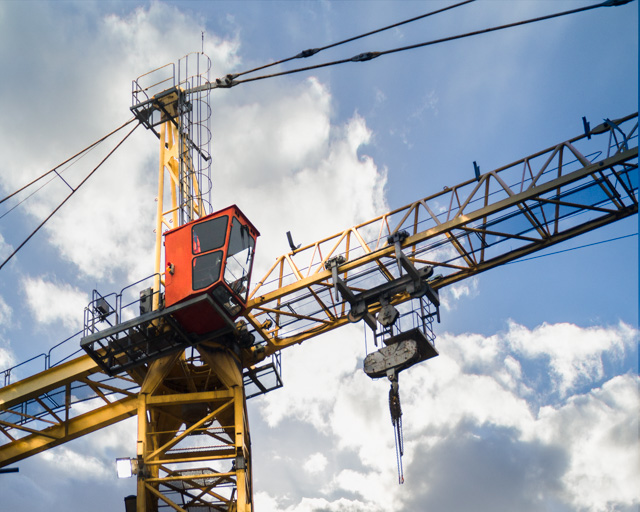 Stuck for a photo today.  Came out of John Lewis and saw this tower crane. I liked the graphical lines in it and the strong colours.  Unfortunately the sky was dull grey.  I grabbed a sky shot from earlier this week and layered it in Photoshop in "hard light" mode.  It turned a dull winter day into summer.  Pity it couldn't do anything about the temperature.  Maybe Photoshop CC2 (or is it CC3?) will achieve that.
365/014