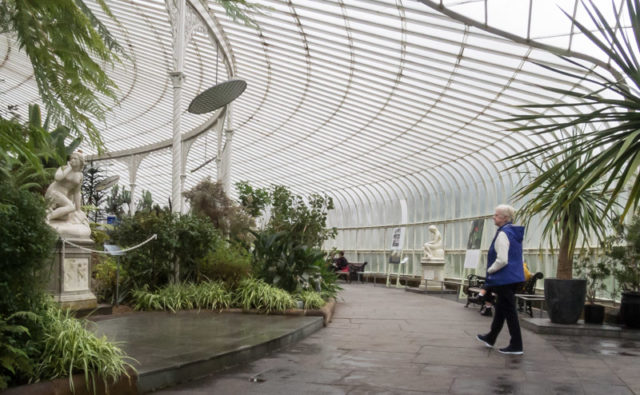 Didn't drive anywhere today. We took public transport instead.
Got the bus in to Glasgow and wandered round the town. Decided to go to Paesano for lunch, but so did everyone else, so we wandered round some more. Finally I suggested we go to the West End Paesano and that's what we did. Got the subway out to Kelvinbridge and walked along to the old bank building that now houses Paesano. Food was just as good and Scamp even managed to get a Vegan pizza with garlic, two types of courgettes, garlic, sugo and garlic. Me? I just had a number 5 which is parma ham with sugo and cheese.

Left Paesano and bumped into Dr Barbara and one of her weans, but it being the West End, he was probably one of her Children or maybe even a Little One. People in the West End don't have weans. Walked up to the Kibble Palace at the Botanic Gardens and I got a sketch done for today's Inktober. It's not brilliant, but I liked its curviness. Facebook doesn't seem to like it at all, because it won't let me post it. Maybe it'll allow it tomorrow.
Subway back and then the bus home. Not a bad day all round. PoD is of a wee wummin walking into the Kibble.
Tomorrow a walk in the morning perhaps.