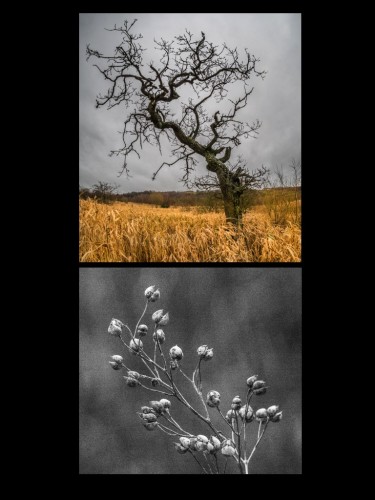 Scamp had an upset night with sickness and diarrhoea. We're not sure exactly what caused it, but the new Indian restaurant is a prime suspect. Strangely, I wasn't affected at all and we shared the food, as we always do. It's a strange one indeed and will need further investigation, maybe even a return visit with a packet of Diocalm with us. Once she was up, Scamp was as right as rain again, but sensibly didn't want to travel far from the house, so I took myself off for a solo walk along to Dumbreck Marshes to see what the new year had brought in the way of photo opportunities. Not a lot was the answer and with the ISO up in four figures at least, grain was going to be a problem again. Oh, I wish we had one day of sunshine, just one.
Scamp declared herself fit enough to go dancin' and we set off for The Garage around 4.30. Place was nicely busy. Not too crowded and not looking abandoned either. I'd expected it to be a bit emptier than it was with all the events and venues that Shannon was punting recently on FB. Had an enjoyable couple of hours of energetic salsa and realised how much exercise we'd been missing in the last two weeks. It's amazing how you get lazy with the short days. Hoping to get out in daylight tomorrow – bank holiday, so no salsa class, but may go to the gym for a swim at least. I'm expecting all the New Year Resolutions will be crowding out the gym for the first two weeks in January. After that, things will get back to normal.
The days are getting longer aren't they?