Aw naw! It's nearly Christlefridge! Went in to Glasgow today because S thought it was time we started Christmas shopping. Why, I ask you? It's not even December yet, let alone double digit December (alliteration) when all sensible people start their shopping. Anyway, it was an excuse to have a nose around Waterstones, the art shops and maybe just a wee jaunt into Jessops (nearly alliteration). Followed by lunch, of course.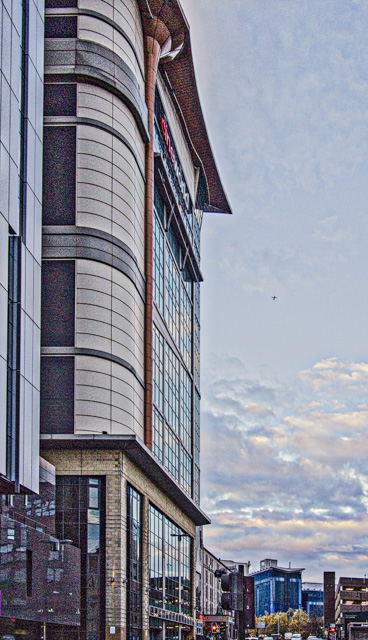 The light was quite the opposite of yesterday with bright, bright sun creating high contrast. I liked the way that worked for the pic of the futuristic cinema complex just off Sausageroll Street. A wee bit of post processing in LR5 which did a great job of curing the converging verticals for once and a bit more processing in Intensify to finish it off. It could probably do with a bit more saturation, but where do you stop then? This will do for the moment.
It looks like I've got another dustbunny here, but like the last one, it's a flier. This time it's a twin engined turboprop. Those with a greater fascination will no doubt be able to ID it from this tiny image. Me? I don't care, I just like the fact that it's there.
365/323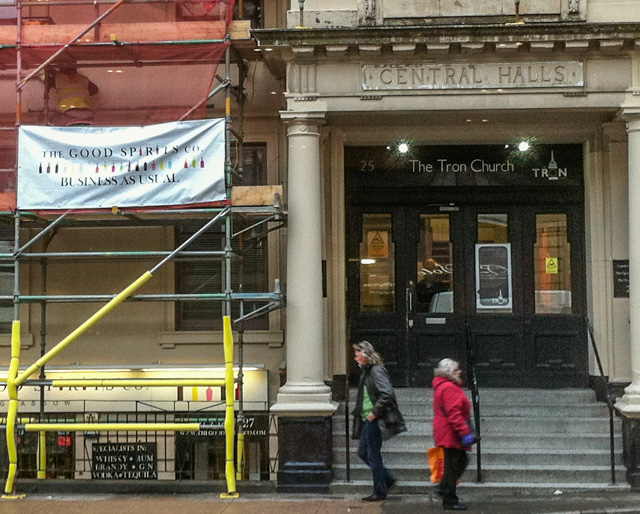 Sitting in O Sole Mio having lunch, I glanced across the street and saw the sign for the off sales at the same level as the one for the Tron Church. Two examples of good spirits perhaps?