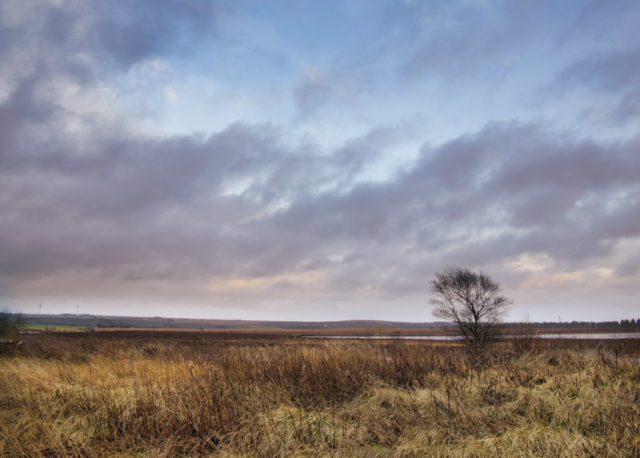 And we don't have to drive in to Glasgow to do it.
Scamp was out at a gig in Steps, not the old 80s group, but the wee place on the outskirts of Glasgow. Gems were entertaining today, the first gig of the year. I was staying home to start tidying up the back bedroom. After about an hour's work I could confidently say I'd found the sofa. It's not completely unearthed yet, but signs are good that it's there. It was really horrible dull day, so I didn't really mind a bit of housework. Then all of a sudden it started getting lighter, shadows started appearing in the room which meant there was light getting in. Yes, the clouds had a bit of texture and they were definitely getting lighter.
Time to go out. I selected Fannyside as my chosen destination because the clouds were breaking up and with a strong west wind I might get some interesting skies. What I hadn't realised was just how cold it was with that wind. I got a few shots at my usual place beside the pine trees on the far side away from the loch, but then the light was moving and need to move with it. Drove back onto the moor road and down to a draw-in where an old peat processing plant used to be before the moratorium on industrial peat cutting was introduced. Got a bunch of shots there across the loch and the moorland behind me. Finally got a shot with an old tree in it. I've taken shots of that tree in all sorts of weather.
Back home I cut the sky form an east facing shot and pasted it in to a west facing shot with the tree in it. A bit of colour enhancement and some Oofle (the stuff Sooty used to use) and today's PoD appeared.
Just as I was finishing the singer arrived home, quite delighted with the gig. Then it was time to make dinner before we headed off for our first dance class in Cumbernauld.
Lovely big hall. A bit cool, but I know from experience that it needs to be be cool when you're dancing. We started off with a line dance of sorts, just as a warm-up. I survived it. Next was beginner's Waltz. There were two of us couples dancing it, but Scamp and I were soon promoted to the intermediate class. Actually I could do most of the moves, but the different terminology from what I was used to and the slightly different combinations flummoxed me for a while. However, by the end of the night I was getting the hang of it. The girl who runs the class is a lovely dancer and seemed to know her stuff. I was most impressed. An hour passed really quickly, always a good sign and we both agreed we'd be back next week, all being well.
Tomorrow we are expecting heavy rain and strong winds, so whether we go out or not and where we go will be determined by the weather.