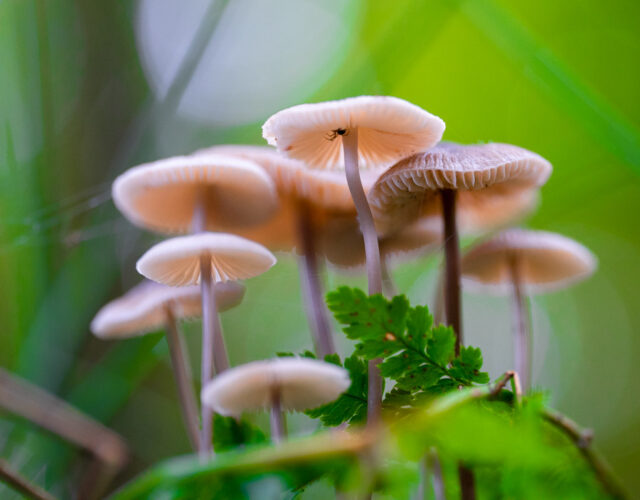 It was sunny when we woke, but soon the clouds rolled in to dull things down again.
Scamp had done some washing in the morning and had hung it out too dry. That's when the rain started. We guessed it was probably just a passing shower and put our coats on to go to the shops in search of some food for dinner. A chicken was to be the centrepiece with soup to start, the "Just Soup" from Friday and anything else we could find in the way of veg to fill the empty spaces on the plate. We came back with more than the bare essentials, but that's always the case with us.
By the time we got back home all signs of rain had disappeared and lunch was on the menu. After we'd watched Andrew Marr take apart another Tory politician, I got dressed for the outdoors and took the Sony A7ii and the big heavy Sigma lens out for a walk. My target today was to be spiders, but I got sidetracked by the variety and quantity of fungi growing in and on the woods. It's so easy just to shoot from a standing position, but much more interesting to shoot from the level of your quarry. I even went one better and shot from below one bunch of mushrooms. It wasn't until I got the shot home I found the spider sheltering under the umbrella canopy of the mushroom, because it was raining again. Smart place to sit and keep dry while tending your web, if you're an arachnid. That photo made PoD. It also ticked the box for completing my target!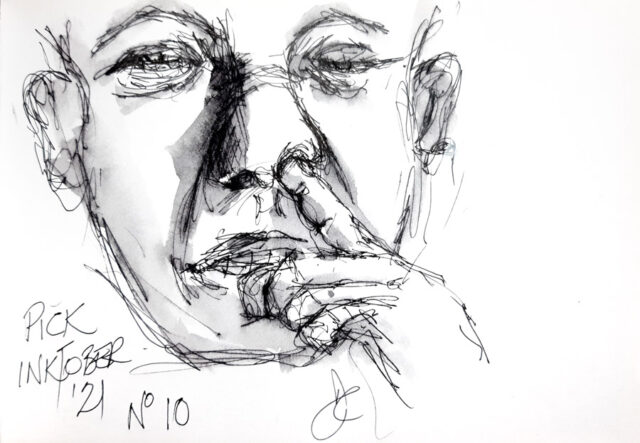 After dinner and Scamp's excellent pudding of Lime and Dark Chocolate Cheesecake. I doodled my answer to today's prompt "Pick". Remember, you can pick your friends and you can pick your nose, but you can't pick your friend's nose. A maxim to live by. It was only a doodle, but I couldn't be bothered copying it into the official 'concertina' sketch book, so it stayed where it was on my Paperchase roughing sketch book.
We watched an interesting tactical race for the Turkish F1 GP. Good to see Bottas take the win and put Hamilton in his place for a change. The poor Fin has played second fiddle for too long.
After that we spoke to Jamie and were a bit put out when he told us that it was warm down south and he and Sim were sitting its the garden yesterday. We could have sat in the garden too, but we'd have ended up with a heavy cold after it. This country of Great Britain is ill divided at times.
No plans for Monday. Weather looks as if it will be much the same as today.