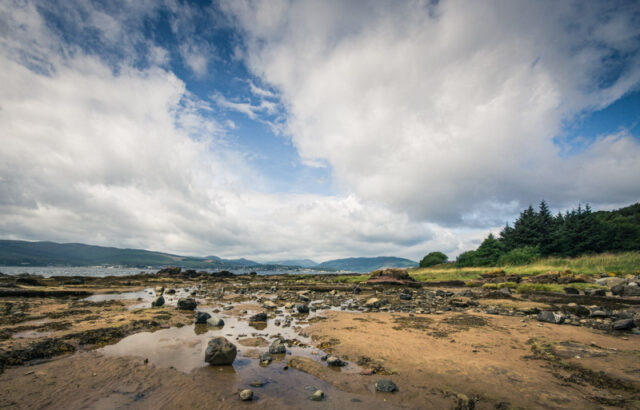 Hope it was just as good a day as you hoped it would be.
As for us, a man was coming go give us giant cotton buds to stick down our throats and up our noses. Always that way round, never the nose first! Once he'd taken the swabs back and asked us our twenty questions we were free to go.
Today we were off for a spin. We drove off in the general direction of Loch Lomond, basically following our route to our dance class on a Saturday. We reached and passed that turnoff and headed further north west past the end of the airport and were just about to take the slip road for the Erskine Bridge when we saw the queue and the warning about a breakdown on the bridge, so instead of turning off, we continued straight on through Port Glasgow, Greenock and parked for a few minutes at Gourock. We sat in the car, eating Dolly Mixtures and watching a Royal Navy ship and a yacht cruising around the estuary.
From there we drove down past Cloch lighthouse and stopped at the garden centre we'd both been heading for. Had a bite to eat there. Not a very posh lunch, think more School Dinners. Steak and Sausage Pie cut from bit tray for me and a couple of dollops of Macaroni Cheese for Scamp. Both served with chips, so yes, very reminiscent of School Dinners. Having said that, it was wasn't expensive and my steak & sausage was lovely, just the puff pastry didn't have enough puff left. Scamp's was a bit congealed.
We walked round the plants and bought an Echinacea we both liked and a terracotta pot to put it in. Scamp bought herself a top in an Edinburgh Woollen Mill shop and I got some photos.
The photos came from across the road from the garden centre where there were views across the estuary to Dunoon on one side and on the other side the remains of the the pier at what had been Hunterston Power Station. Those were just the middle ground props for the star which was the sky with it's great cloud patterns. Well, it was for me anyway. PoD was a picture looking from Cloch towards Dunoon.
When we'd walked across the pebbly beach and on round a headland, we headed back to the car and drove on to Inverkip, then took the road over the hill to bring us back to the motorway and home.
Spoke to Jamie in the evening and found out he was intending to test his baking skills on a Swiss Roll.
Not quite the day out we'd planned, but a breath of fresh salt air and a walk along beside the Clyde estuary. Loch Lomond will have to wait for another day.
Tomorrow, Scamp is out for coffee with Isobel and I may just put pastel to paper if the weather is inclement, as seems likely and if not then I may go for a walk to see some dragons.