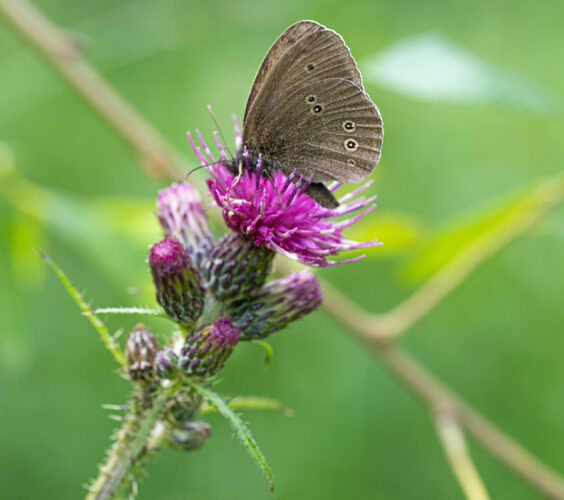 Hopefully a warmer and calmer month than 'Flaming June'.
We faced the potential of more rain and drove up to Tesco for milk, bread and breakfast cereals and ended up coming home with what was a fairly substantial weekly shop.
Back home I had my usual end of month clean up of the last month's photos. It's amazing how many photos I take in a month, even once I've culled and deleted the obvious junk photos.
Because I'd cleared out some space on the computer, that gave me the chance to fill that space with more photos. That's why I went out for a walk in the afternoon to get some photos. It was definitely going to be an insect of some description that was going to be PoD and it turned out to be a Ringlet butterfly that filled that first space in Flickr. I'm trying to actively reduce the number of photos I post in Flickr to increase the quality of my submissions.
While I was over in St Mo's taking photos, Scamp was pruning and clearing space in the garden, digging things out and moving things around. Just keeping things in good order.
We did manage half an hour or so in the garden when I was back from my walk and Scamp had taken her gardening gloves off. Time to read a bit and have a glass of wine. Then the sun disappeared and it was time to head inside again.
Tomorrow hoping to get one more dance lesson at Brookfield before the teachers go off on their three week holiday work on a cruise ship.