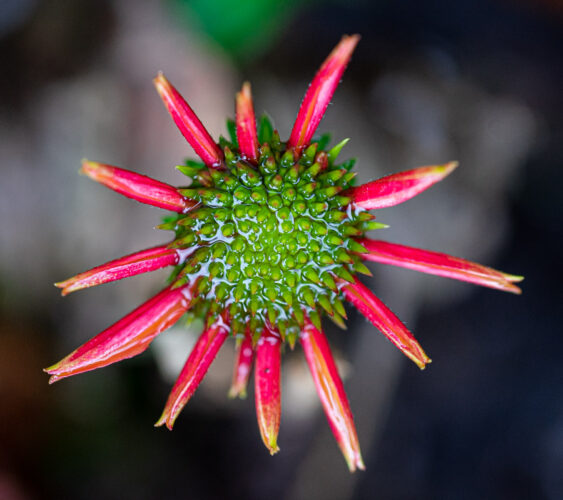 Now there's a surprise. It surprised us too, but the blue skies didn't last – they never do these days.
At around 9am the skies were clearing and there was blue sky up there. Not a lot of it, I grant you, but it was there and there were much lighter clouds than of late. By 11am when we were setting off for a shopping expedition to Tesco, the blue sky had disappeared and the clouds were getting lower and lower. I think it was just a ruse to encourage us out.
Scamp got a phone call from Jackie in Skye and the two were blethering away, so firstly I went out with a camera to photograph an Echinacea plant that's still flowering in the garden. Then I went upstairs to work on our kitchen calendar adding some photos that I'd shared through iCloud. Unfortunately the WiFi signal from the new modem couldn't reach to the upstairs bedroom and I started thinking I might try one of those 'powerline' extenders that carry a wireless signal through the 240v cables in the house and can be picked up anywhere through a receiver. I might look into it. Anyway, I finally got the share done and half the photos inserted into the Pages document.
After she was finished on the phone, Scamp drove us in the Wee Red Car up to Tesco and we did a fair bit of shopping. Enough to keep us going into the new year which was only two days away (it's a bit closer now). Lots of other folk were doing their last minute New Year shopping. Lots of clinks to be heard at the checkout, the sort of clinks that bottles make. We were no exception, so we have no room to talk.
When we got back we found that the Amazon fairies had been and left us a couple of parcels. Only one was really for us, or for Scamp to be more precise. It was a new pen that I couldn't find anywhere in a 30 mile radius, but Amazon had it of course. After lunch and while Scamp was getting her Dundee cake ready for the oven, I went out to get some more photos in St Mo's. By then the clouds were gathering and there was no sign of that lovely blue sky. I took a few photos while I was out, but nothing compared to the echinacea from the morning.
Back home it was soon time to make dinner and we'd both agreed on Mushroom Risotto. It turned out exceptionally good. Probably because I was using a 'Risotto Paddle' made from cherry wood and designed for mixing the risotto. It's got a hole about 50mm diameter in the blade to increase the surface area and force the rice granules through, making the risotto much creamier. Also, the flat base and straight sides make it easy to scrape the rice from the bottom and sides of the pan. Very clever tool that does everything its been designed for. I was impressed. Thank you both for it!
We watched The Remains of the Day tonight. It was a strange film that posed more questions than it answered. It was based on a book, written by Kazuo Ishiguro. I've read one of his books and it left me with the same feeling this film did.
Tomorrow we have no plans. It's unlikely to be dry by the looks of things, but that won't be anything unusual. If it dries up we may go for a walk. Otherwise it will be the usual Hogmanay story of cleaning up the house ready for The Bells.