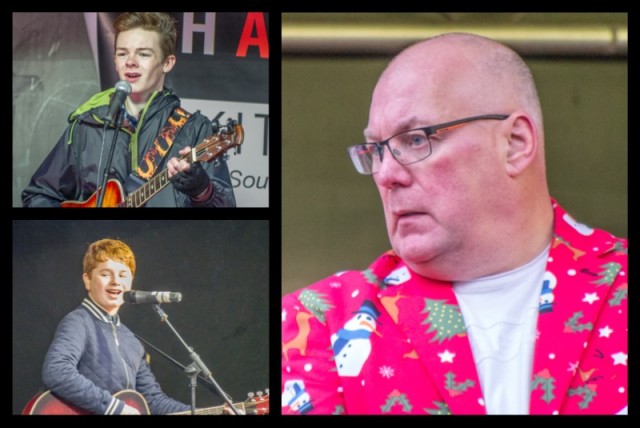 Sitting in Cafe Tabou waiting for our starter listening to an absolute prick shouting across the table to his friend who may not have been deaf to start with, but certainly was now. He also regularly interspersed his monologue with laughing "A HA HA" as if he had read about laughing, but hadn't actually have heard it before. I think he may have been, or is, a lawyer or some other worthless bastard, but obviously (self)important. The Art Critic quote from Monty Python sprung to mind "… clever people like me, who talk loudly in restaurants …"  Lunch itself was good.  Salad de Chef with kippers and loads of other good stuff followed by Hake for Scamp and Rabbit and Chorizo Ragu for me.
When we left, we went to WH Smith to win our fortune with a couple of Thunderball tickets and bumped into Duncan and Heather.  It's ages since I've seen him and it was really good to catch up.  Twelve months catchup in 30 minutes as Duncan said.
We had already finished our shopping – coffee, tea and cheese, with a trip to M&S for Scamp to pick up any Black Friday Weekend bargains.  She did get one, of course.  We had also stood and watched a trio of youngsters playing on the outdoor stage.  Unlike last year's, this lot brought a lot of enthusiasm to the gig and didn't seem at all fazed by it.  At least not until they tried to give out their Facebook website address to the crown, then they became a bit tongue tied.
It was now time to head home through the pouring rain.  Driving home wasn't much fun through driving rain and sleet, but at least we were warm and dry in the car.  It was one of those occasions when the car was better than the bus.  I couldn't imagine sitting in a wet jacket and jeans on a cold bus for an hour and a half, then waiting in the rain for another connection.  Nah, driving might have been a pain, but it was better than public transport tonight.