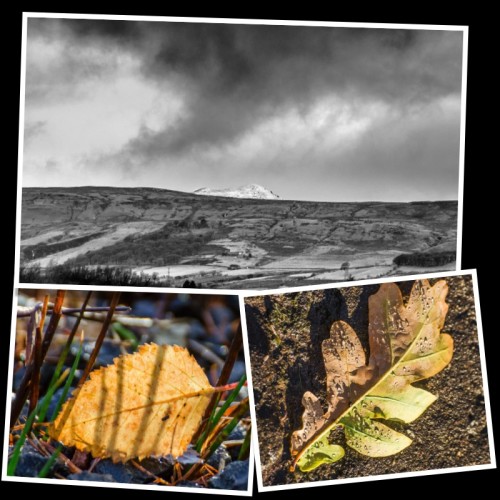 This was yet another day of torrential rain.  We are certainly making up for the Indian summer we enjoyed in September.  Or, maybe it's just the monsoon season!
Just before lunchtime, the clouds parted, the sun shone and the rain dried up.  I put a pair of wellies on and went for a wade around St Mo's.  There wasn't much wildlife in evidence, but the bright directional sun did light up a few things.  The usual clichés like raindrops on oak leaves and see through birch leaves.  The snow on the Meikle Bin gave an interesting landscape shot that looked better in mono than in colour.
After lunch we watched the Andy Murray building the foundations for his startling win which would seal the Davis Cup win for Great Britain.  We should have been watching the final Grand Prix race of the year, but BBC switched the sports round at the last minute and it was only Scamp's skill with the Tivo box that saved the day … again.  Pity it was such a boring race.
Not long after I got back from my walk, the rain returned with the wind for a while.  The wind is predicted to reduce during the night, but unfortunately the temperature will reduce too and leave us with the prospect of ice and snow tomorrow.  That may make life interesting for Jackie who is staying with us for the next few days and travelling to Embra by train.