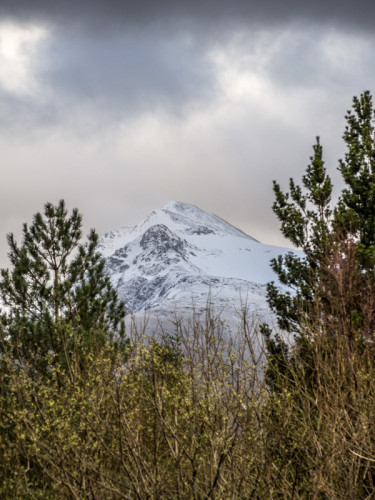 Waited in for the postman hoping that he'd brought the paracord camera grip I'd ordered on Saturday. He had and it's really neat, much neater than I could make. Fits well and black to match the '10 – that's their new names sorted. One's the '10 and one's the '5. Much better than Oly's ridiculously long names. Anyway, it arrived and I'm pleased with it. Got all the bags loaded into the Megane and we were off by 1pm. Weather was as predicted, sunshine and showers. Good April weather. Traffic was light with only one slow 40mph max Lordy to contend with. Once we were past that it was plain sailing up to Fort William. We did get stopped at the edge of Rannoch Moor by police because of "filming". A mile or so further on we saw the film crew working a boom mounted camera just off the road. Didn't see any stars though. Bummer. Arrived in Fort Billy just before 4pm. Room is ok. Just a room. Going swimming now. A chance to compare and contrast.
Well, we did compare and we did contrast and the overall result was that home's best. The Ben Nevis leisure centre had a better pool, a much better pool, the sauna was not as good as Westerwood and the steam room was much the same. The changing facilities and showers at home were much better, so overall it was a home win, but that pool was really good.
Biggest disappointment was the room, or to be more precise, the location of said room. Right on top of the kitchen, which meant that from about 6.30 until 9.00pm the extractor fan ran non stop and there was the banging of trays and pots you'd expect in a hotel kitchen. We just didn't expect to have it relayed into our room. However, when the kitchen closed, the noise stopped at 9.00.
Dinner was good. Scamp liked the chicken pakora we shared and we both enjoyed fish and chips.