Up and out to the gym. The start of a busy day. An hour of tranquility and a great expenditure of energy. I think it's best to go the gym in the morning. It's only us old retired folk that are there at that time. Back and the next thing on the agenda was a visit to the nurse for my test results. Thankfully they were good, in fact very good. BP down, cholesterol down, kidneys good and liver good. Best of all, I've lost 2Kg since last year. I think it was the gym that did it.
Final thing on the list was to take the Temperamental Tamron in to Glasgow to get it sent away to be repaired/replaced. No problem there, the lens performed its little staggering focus trick and as the girl in the shop had the same model herself, she recognised the things were not right with it. It will be away for a week or two, but that's not a problem because I'm becoming used to the Black Beast and its wily ways. I wouldn't go so far as to say I understand it, but I'm beginning to get there … I hope!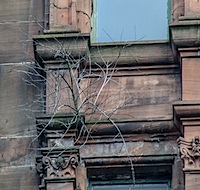 On the way back to the car, I spotted the tree (or bush to be precise) growing out of the window lintel. I thought it would make a decent shot, but I think the lighting wasn't good enough. It's all about the light you know. Have I said that before? 😉 Anyway, I decided to keep it in because of it's incongruity. Almost at the carpark, my eye was caught by the reflection of the flats at St Mungo's Place reflected in John Lewis' window. I couldn't really get the place I wanted to get the width of the reflection, but I liked what I got.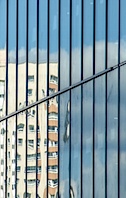 Home to a sirloin steak for dinner!