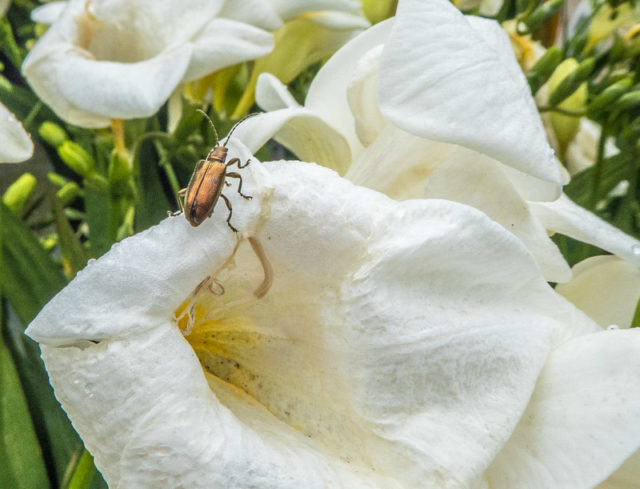 Out to the docs this morning for the results of my blood test. Everything was fine. The sister asked me if I keep active. I said I did, but didn't tell her about the wee man on my wrist who pops up every day at ten minutes to the hour and encourages me to "Go for a stroll".
Scamp and I went to lunch at Cotton House, Chinese / Thai restaurant. We were pretty sure we'd get a table, but went early, just in case. We were only the second couple there when we went in, but by the time we were leaving around 1pm the place was 75% full. Very popular is Cotton House. We were boring today and had Spring Rolls to start and then Chicken Chow Mein.
On the way home we went to B&Q for yet more garden stuff and other odds and ends and that's where I saw and captured the bronze beetle, shining in the sun.
When we got back Scamp noticed that Hazy had phoned and we talked for nearly an hour about this and that. It was good to have a wee chat while Scamp laboured hard cutting the front grass.
Salsa tonight was a bit low key with very few beginners in the first class and not enough girls in the second. Shannon had to encourage a few of the girls from her class to join in, but that wasn't really fair because they weren't experienced enough to enjoy the moves. I think there will be a few classes combining in the next few weeks. It always happens in the summer.
Watched an interesting documentary about Billy Connolly being painted and photographed to celebrate his 75th birthday. Worth a watch on iPlayer.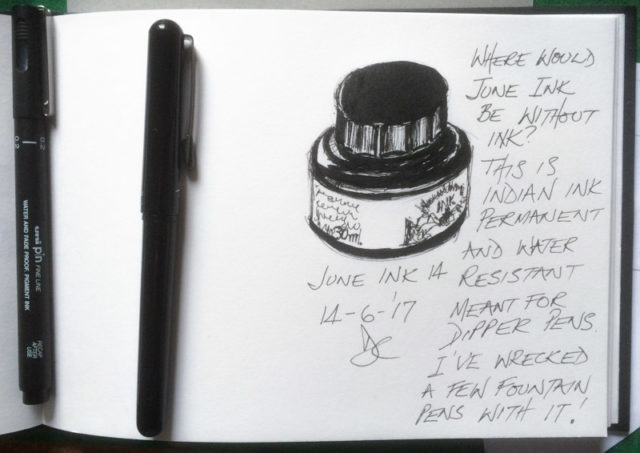 Today's sketch is a W&N Indian Ink bottle. I like it because of the highlights that make it look like glass.
Tomorrow is Coffee with Fred day, while Scamp goes galavanting to Falkirk.