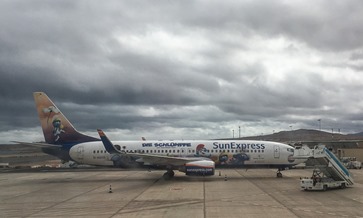 Today began early, very early, around 5.15am, but I hadn't slept very much the night before. Too much stuff flying through my head, plus all the unaccustomed noise from the airport just across the road. We just got dressed, grabbed our bags and headed for check-in. Soon we were checked in and as usual my bag got searched at security. This time it looked like a substance search. Thankfully I hadn't brought any ground coffee with me this time or it might have taken a bit longer. It didn't help that the reader the bloke put the sample into wasn't working and the second machine wasn't working either. He eventually dropped the sample in the bin and told the senior security person that it had turned out clean, and I was through. Overpriced breakfast at Frankie & Benny's then the long wait for our gate to be confirmed. Of course we were leaving from gate 30 right at the end of the long passage way. To confuse things even more, a flight to Budapest was leaving through gate 31 right next to ours. Thankfully we got on the right plane and were soon up into the clouds.
Arrived at Fuerteventura after a bumpy flight got a taxi to the hotel and almost cried with delight when we saw the view from the 5th floor room looking right across the pools to the sea beyond. Brilliant! Got changed out of Scottish clothes and into holiday ones, then went to explore and refresh our memories of Elba Sara.
The rest of the day was spent relaxing, eating, drinking and sunbathing. Food was just as good as we remembered it and the skies were as blue as we remembered too. Onward and upward!
PoD is a plane we saw at Fuerteventura airport. SmurfAir.
Tomorrow more of the same with the chance of a swim, perhaps.