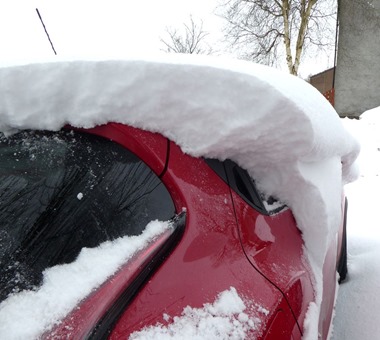 Scamp had checked in the morning with Tommy Cook and discovered that the flight was on at the posted time for Saturday morning from Glasgow. All we needed was to get to the airport. The weather was a little bit kinder, so I thought I'd try cleaning the car and see what came of that.
It took me the best part of half an hour to clear the car of snow and another hour to dig away a path from the front wheels to the twin ruts that ran down the hill. I wasn't alone in my travail. There were woolly hatted diggers everywhere this morning. Some digging, some spreading salt grit and some just leaning on their shovels shooting the breeze. When I came in I was tired and aching, but confident that we could break the grip of the snow. Most of the folk I spoke to were more worried about getting back UP the hill, rather than getting out. I smiled, because that wasn't bothering me that much. I knew that if we got out, we wouldn't be worrying about the return journey until next week. Scamp, meantime was trying to book us a taxi, but having entered the queue at position 9 then after 18 minutes, having reached position 4 in the queue, I wasn't confident that we'd get a taxi, anyway unless they were driving helicopters, they were unlikely to get the up the hill and there was nowhere safe for them to stop and pick us up on the main road. The decision was made. We'd drive. After lunch I went out to inspect my handiwork and was impressed with the way the salt and grit had reduced the icy snow to sludge. Cautiously nudged the car forward, then back again and the tyres were gripping well.
The drive in to the airport was a bit of a disappointment after all the digging, spreading, working in the salt and clearing of the car. It just worked, thankfully and we were parked up in the multi at the airport in record time. Hotel is a bit basic. Heating seems to be controlled through a timer and as a result the room is a bit cool, but we're here and that's much further than I thought we'd be last night.
There is a picture to go with this blog post, but I haven't had time to process it yet. Perhaps I will tomorrow, all being well. Scamp is happily sitting watching athletics from Manchester as I write this. Me? I'm just happy that all that back-breaking digging was worth the effort. Let's see what tomorrow brings.