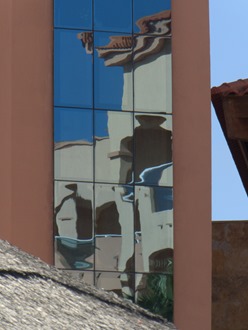 Woke early again, or to be more precise, were woken early by the weans next door running up and down the apartment. Glad we did wake early because the sun was already shining and the sea was sparkling.
Went down for breakfast and after that sat outside at the pool to let it slide down. Saw a dragonfly, a big green one. It was on a mission and flying a circuit with no opportunity to land anywhere that I could get to, so I just watched. Butterflies too, loads of them. Some I'd seen in Trinidad last year and others that looked like cabbage whites.
After we'd rested for a while we went for a walk along the front in the direction of Caleta de Fuste (AKA the town). Loads of folk out walking, some swimming in the sea, yet more sunbathing. Sunbathing? A couple of days ago you were thought mad to be out without a waterproof, lined jacket, woolly hat, gloves and heavy duty boots. Now it was tee shirt and shorts. We only walked along to the end of the hotel section, past the posh Sheraton. Scamp decided that was enough for a Sunday morning stroll and I agreed. Anyway, by the time we got back it would be nearly lunch.
Got a safe key and pool towels after lunch and went down to the pool again. Both of us had a swim in the slightly heated pool. Actually it's warm enough once you're in. Sat a while longer to dry off before we went back to the room because it was nearly dinner time (everything revolves around food, you see). Spent an hour trying to get a regime set up for WIndows to work with Lightroom so I could get my photos processed. I think I've finally worked that out. What is it about Win 10 that means it cannot take NO for an answer. It still persists in trying to download the latest version. It doesn't seem to understand that my C: drive is only 32GB. It persists in telling me to free up 8GB. It doesn't seem to understand the simple two word answer: FUCK OFF.
After dinner entertainment was Pepe of course, followed by a magician. Doves from up his sleeve, escapology and lady pierced by swords. Hmm, seen it before. Less alcohol tonight before going to bed.
Today's PoD is of reflections and angular lines. Very esoteric and ethereal.
Tomorrow we are hoping to go for a walk in to town.