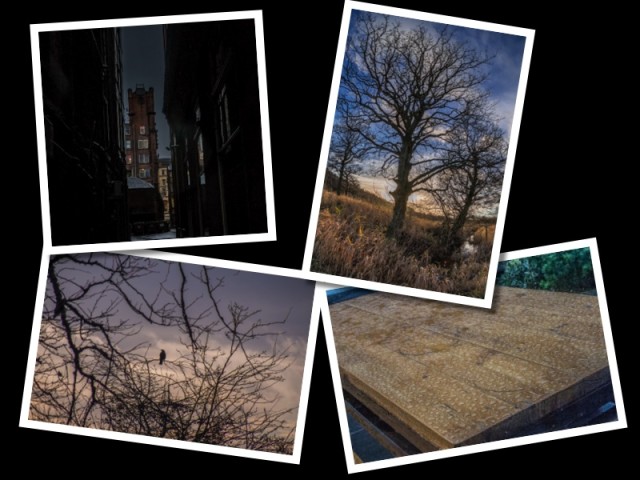 Yet another day that began with that wet stuff falling from the sky, a grey sky.  Scamp wanted to do some shopping in Glasgow and I can always find something to look at or to buy there.  Driving in was as busy as yesterday and I used the same 'shortcut'.  I also used the same parking 'secret'.
We agreed to split up and shop separately.  While Scamp was in a shop, I was wading through a torrent from the sky to get to a sweet shop in Argyle Street.  When I got there, the shop was shut.  I said 'bad words', but got what I wanted in a nearby 'American Candy Store'.  Walked back and when I was going up Queen Street I saw a photo I had intended taking yesterday and grabbed it because it was still raining.  I was determined to get at least one in the bag.  After meeting Scamp we went for a coffee in my new favourite place.  If you don't know, see Monday's blog.  It passed Scamp's approval.  On the drive home the sky cleared and the sun shone again.  This is beginning to be a habit from the weather.
In the afternoon after speaking to Hazy on her birthday, I went out for a walk along the Railway Walk.  Weather was beautiful with a sky graded from blue to a sunset orange. Just enough high white clouds to give a bit of texture.  A day of two halves to be sure.  Got a few shots of the trees at the side of the Kelvin Burn with the sun just starting to dip below Bar Hill.
Last night I'd ordered a bottle of Licor 43 from Asda and was informed that it would be ready to collect between 4.00 and 5.00pm today.  Customer serviced didn't know about it and the man in a van in the middle of the carpark where you collect your click and collect didn't know about it.  I came home empty handed to find that I hadn't finalised my order.  How do you do that when you've logged in, made your order, chosen your timeslot and found no continue button, no checkout button, no finalise button.  Asda Click & Collect is a shambles.  I don't think I'll use it again.  I may never use Asda again.  I'll just buy the Licor 43 in a shop next time.